For the first time a player wore a bodycam
It happened in Cologne - AC Milan, a test that could revolutionise the world of sports entertainment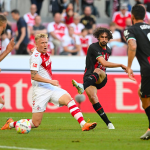 Pre-season matches are often useful to test new formations, new game patterns, and to prepare the team for the new season. Saturday's match between AC Milan and Cologne was not just a simple friendly to test the players' physical preparation. During the match valid for the Telekom Cup decided by Giroud's double, for the first time in the history of football two defenders of the German club took to the pitch with a bodycam, offering a first-person view from the pitch. A more than curious introduction, which confirms the continuous technological innovation that is also involving the world of football and that in the not too distant future could change the way football is experienced on TV. A camera that allowed the audience to witness the action first-hand, watching the game from the players' perspective.
Milan's match against Köln featured body cameras and mics attached to a number of players and officials.

This meant that we could see the game from the players' view in high definition.

Here's a look at how that went pic.twitter.com/1pqNsnWPGv

— Italian Football TV (@IFTVofficial) July 17, 2022
A revolution that will allow every TV viewer to get more and more into the heart of every action, experiencing it directly from the jersey of the players on the pitch. A totally new perspective on some of the action and replays as seen from Giroud's goal will make for an even more immersive and compelling viewing experience.