Who is the new owner of AC Milan?
This is not the first time the fund has invested in the world of sport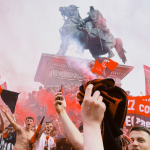 After becoming Italian champions 11 years after the last time, AC Milan have also changed ownership, passing into the hands of Red Bird, the investment fund founded in 2014 by Gerry Cardinale, a former Goldman Sachs partner. Fans can rest assured, the new ownership has decided not to change a comma both on and off the pitch, confirming all the architects of the newfound success such as Paolo Maldini. A wise choice born to give continuity to an environment that has managed to return to its natural habitat after years of crisis and that is now obviously called upon to reconfirm itself. Winning in fact is always difficult, but reconfirming is always more so, and this is the first challenge of the international fund, which already has diverse experience in the world of sport and football.
First of all, the international fund already owns Toulouse, 85% of which it bought in 2020 after promotion to Ligue 1. But it doesn't end there; in March 2021 Red Bird bought a $750 million stake in Fenway Sports Group, making it the third stakeholder in the giant platform that controls Liverpool, the Boston Red Sox, and the Pittsburgh Penguins. In 2020, it also purchased the XFL, the American Football League created by Vince McMahon through a venture created with Dwayne "The Rock" Johnson.
RedBird owns a television sports network and is the owner of India Dream Sports, a company that organizes and runs fantasy cricket while the latest addition is an online ticket sales platform called RedBall. Thus, Rossoneri fans can look forward to the future with great optimism, both because of the recent Scudetto win and because of the skill and expertise of the new owners, who are certainly not the last ones when it comes to sports.