The NBA's new NFTs that change based on player performance
A small revolution to increasingly tighten the relationship between Web3 and the playing field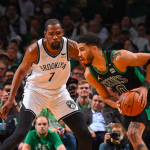 On the occasion of the start of the Playoffs, the NBA is ready to launch a new series of NFTs related to the players who populate the most famous professional basketball league in the world proposing some interesting news. The project developed by the NBA with the Twitter page The Association NFT through the Web3 consists of 18,000 Ethereum NFTs representing the 240 players engaged in the 16 teams fighting the playoffs with 75 items for each.

The first change will be that the NFTs will change over the course of the postseason, automatically changing the background and frames depending on the team's results, such as if the series ends in a sweep, or they go to Game 7, or they pull off an upset. And emojis will change depending on an individual's performance, from games over 30 points or records for assists or stolen balls, to further personalize each NFT in real time.


It's a way to further tie the world of Non-Fungible Tokens to the world of sports, thus creating more interest in both. NBA fans will be more attentive to the fluctuations of the market on OpenSea and collectors will have to follow the playoff games to understand how to move and to look for the most valuable NFTs, following how the frames of the various boards evolve.
A gamification of the NFT landscape that fills a gap that for example had the previous series of NFT dedicated to the world of NBA basketball, Top Shot. Furthermore, The Association will use Ethereum, the main crypto of the moment, to facilitate transactions once it opens on OpenSea. For now, The Association NFT will allow a blind mint, meaning that no one will know what they have received before the official release scheduled for April 22, and will not have costs beyond that of the energy needed for minting. A bet that for now is paying off, since all the presale seats are already sold out, but that will have to deal with the volatility of the market and the results of the NBA playoffs.