A DAO is looking to buy an NBA franchise
"We are going to buy a team and you can't do anything about it"
Last week the news that a DAO was trying to purchase one of the world's thirteen original copies of the US Constitution left me somewhat surprised and somewhat baffled. The constitution of any state is undoubtedly something sacred and fundamental at the same time, and certainly not one of the items any of us aims to purchase in our lifetime.
But leaving aside its importance, the first question that arises is actually obvious: what is a DAO? They are nothing more than communities born strictly on the web where users from all over the world join together to achieve a common goal, collecting crypto resources and then investing them. Everything is regulated by smart contracts, a regulation based on blockchain technology. In practice, no one can rebel or run away with the loot (also because in this case everything is digital) but all share common objectives established by voting. Now, however, after the constitution, another DAO, "the Krause House DAO", is trying to increase its capital in the form of Ethereum with the intention of buying an NBA franchise. The project has been named "WAGBAT" (We are going to buy a team) but it will take a long time before it is fully completed. NBA franchises are not affordable, the cheapest being the Memphis Grizzlies and its value is around $1.5 billion.


According to investment firm Andreessen Horowitz, these organisations will have a huge impact on the next phase of the internet, revolutionising it completely. A few days after Virgil Abloh's death, Fred Ehrsam, co-founder of Coinbase, revealed that one of the designer's last projects was to create a creative-only DAO with the intention of revolutionising the fashion industry. The very fact that one of the most visionary designers of the last decade has decided to commit himself to this project shows its potential.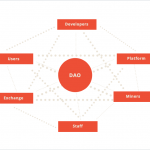 As Valerio Bassan also wrote in his newsletter, DAOs are born from the ambitious idea that there can be a better and fairer internet, where user-creators will finally be able to regain, at least in part, that money and power. Some of them have already achieved important results, using their investment funds to start up charitable collections. Now one of them has set its sights on the world of sport, kick-starting a real one that could change ownership first in the world of basketball and then who knows maybe in football until it reaches all other sports.