The story of an AC Milan shirt in South Sudan
The photographer Jan Grarup tells the story, starting with a chance encounter on the banks of the Nile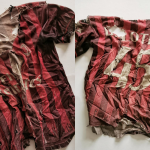 During his latest trip to southern Sudan where he was photographing the terrible effects of the heavy flooding that has hit the country, Jan Grarup met many children who, like him, love football. The Danish photojournalist is one of the best known photographers in his field and has been capturing the most important conflicts in recent history with his lens for over 25 years. He could not resist when by chance he came across a young boy wearing an AC Milan shirt, an Italian team he likes. Grarup recounted in an Instagram post that he was impressed by the shirt - which is from the 2016-17 season, with Mario Balotelli's 45 on its shoulders - that the boy himself had repeatedly stitched together by hand. An object with a high symbolic value, enriched by the history and adventures of a young boy born and raised in South Sudan with the myth of European football.
Jan Graurup asked the boy if he could have that shirt in exchange for a new Milan shirt. It was an offer that could not be refused, and the boy gladly accepted. The shirt is now at the photographer's house in Denmark and will be auctioned off to support UNICEF's important work for the children of South Sudan.
This story represents the symbolic and aesthetic power of football shirts from a different angle: from the catwalks to the streets of a village in South Sudan, the shirt is a treasure trove of dreams, fantasies and values that everyone can interpret and observe from a different point of view. Grarup's post can also be a cue for clubs and players to raise funds and take charitable action to combat the health emergency in Africa, the continent with the lowest rate of vaccination in the world, which is, however, little talked about in the media.