The new three kits of SSC Napoli by EA7
Minimal design and a chromatic homage to Diego Armando Maradona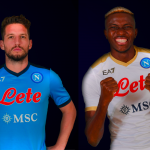 After several delays and after a lot of confusion seen at Dimaro's training period, EA7 makes its official debut in the world of football as a technical supplier for SSC Napoli. A little while ago on the social channels of the Neapolitan club, the company unveiled the new shirts for the season that will start on Sunday against Venice. The new brand that dresses in Naples started without exaggerating, remaining faithful to last year's template and further cleaning the design of the shirt. The launch saw the release of the three kits at the same time and the chromatic choices were those of blue, red and white - a color that has been seen recently but which brings to mind the 1987-88 vintage, the one in which Diego Armando Maradona literally drove the Neapolitan fans crazy.
As happened last year, Napoli focuses its energies on a single launch and once again the video produced in collaboration with EA7 is of a great level: the focus on the seven virtues of the warrior charges the players of Spalletti, who has always been able to to make his into real warriors; Diego could not miss in the video, to whom the third kit in total white is dedicated. The collection following the launch of the three jerseys surprises the fans, finally satisfied to see the "Lete" brand in white and no longer only and exclusively in red.
The shirt does not have great aesthetic characteristics being minimalist and very clean. The only exception is represented by the golden collar of the third shirt which gives thickness and relief to a shirt that, otherwise, would have been very similar to the total white presented by Nike for Tottenham.
The jerseys are not yet available either in physical stores or on the club's online shop. The website states that "the new collection created by EA7 and Napoli Calcio will soon be available in official stores and on the Napoli webstore" and should not be available before mid-September. The price, according to some estimates, would be around 120 euros.