The City Edition of the Knicks redesigned by Ronnie Fieg
From "New York Knicks" to "New York KITH"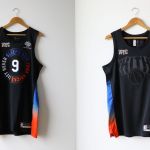 The NBA is the perfect ecosystem to combine sport and fashion, having established itself as one of the most fashionable professional leagues in the world. Over the last few years there have been many collaborations with brands that have contaminated the style of both the players and the franchises. New York from this point of view is a step ahead of the others, just look at how and how much Louis Vuitton has invested in the NBA and in particular in the "World's Most Famous Arena". The Knicks are nowhere near the NBA title and in the past 10 years they haven't been, but there is something magical in the air of Madison Square Garden when the lights come on in what Michael Jordan has called "The Mecca of Basketball".
Air that Ronnie Fieg, designer, owner of KITH and always a fan of the Knickerbockers, has breathed since he was a child. The New York City Edition jersey has been shrouded in mystery, so much so that it is not yet present on the official NBA website. An explanation could be the collaboration with Fieg, who through a tweet announced for the first time that he had collaborated in designing the shirt.
I'm a Knicks fan for life. Designed their City Edition jersey for the 2020-2021 season, which they'll be playing in on Friday nights and nationally televised games. Worked on an off court collection as well in partnership with Nike and the Knicks. More info coming soon. pic.twitter.com/bURROzplUS

— Ronnie Fieg (@RonnieFieg) December 10, 2020
As we read from the tweet, the collaboration between KITH and the Knicks is not limited to an alternative edition of the City Edition - with the original Knicks logo losing its iconic lettering to make room for "KITH" written in the same font - but it goes beyond. A Nike collection dedicated to NYK and designed by Fieg has been announced and the expectation is high after that "More info coming soon".