Philipp Plein at MFW: criticism and a controversial tribute to Kobe
Charges for the German fashion designer after the presentation of the 2020 collection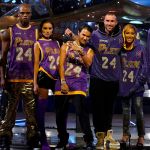 Being talked about has always been one of the main goals of the Philipp Plein brand. Being whimsical and extreme is part of the German designer's mindset and being in the spotlight is the feature that makes the luxury brand one of the most talked about at the moment.
At Milan Fashion Week, however, this chatter did not focus so much on the autumn/winter 2020 collection. After staging the usual extraordinary show with the live performance of Tyga and Missy Elliott, the brand unveiled a particular and eccentric partnership with Swarovski. The involvement of the Austrian company has produced a line dedicated to Kobe Bryant, who tragically passed away on January 26th.
So far, everything is normal. The shirts and sweatshirts of the Los Angeles Lakers-inspired tribute capsule - with Swarovski crystal inserts - are at the center of criticism for two substantial reasons. The first concerns a really unpleasant coincidence: inside the location set up by the Philipp Plein team there are luxury gold vehicles such as jets, yachts, luxury cars, but also two helicopters - the same that caused Bryant's death after a terrible crash in Calabasas, CA. It is not legitimate to believe that it was a reference, but surely the coincidence was noted in a negative way.
The second, however, concerns a commercial choice of the designer. The criticisms initially focused on the helicopter's gaffe and later on the fact that the brand wants to exploit a tragedy in order to sell the new collection. It seems that the specification in the post of Philipp Plein's official account was not enough, which explains that the proceeds from the sales will be donated to the Mamba & Mambacita Sports Foundation.
Philipp Plein made two gold helicopters for his show today, which falls 27 days after Kobe died in a helicopter crash

BUT DONT WORRY he whipped up a bunch of Swarovski Kobe jerseys (with "Plein" written on them??) so it's cool.

Fuck you, Philipp. pic.twitter.com/UHjbubXuG9

— Bliss Foster (@BlissFoster) February 23, 2020