Nike will continue to work with the Bryant family
Vanessa herself confirms this with a post on social networks
After the rumours that spoke of a divorce, this morning came the news that a bit 'all were waiting, Nike will continue to work with the Bryant family. Vanessa Bryant has confirmed that the partnership will continue with the aim of inspiring a new generation of athletes and encouraging youth participation in sport. Along with the confirmation also came a new and interesting news, the first new shoe of the partnership, the "Kobe 6 Protro "Mambacita Sweet 16" will be dedicated to Gigi Bryant, while all proceeds will benefit the Mamba and the Mambacita Sports Foundation.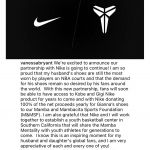 "Kobe Bryant means so much to so many of us, not just NBA fans, but globally beyond the game," says John Donahoe, President and CEO of Nike, Inc. "His impact in growing the sport, particularly by encouraging women and youth to play it, remains one of its deepest and most enduring legacies. Together with Vanessa, we hope to honour Kobe and Gigi by supporting a new generation for many years to come."
But that's not all, as part of the new partnership, Vanessa and Nike will work together to create new basketball facilities in Southern California and the Bryant family will continue to support and equip NBA and WNBA athletes who bring the Mamba Mentality values to the court.