Inter Milan may start a collab with Palm Angels?
According to Steven Zhang's IG account something is cooking
In Milan Fashion Week, sport doesn't stand by. The announcement via social media is as unexpected as it is full of hype. To give it is the young president of Inter Steven Zhang, who posts two stories on his Instagram profile in which he reveals the collaboration between his FC Internazionale and one of the fastest growing brands of the moment, Palm Angels. The chat on IG is with Francesco Ragazzi, creator of the brand.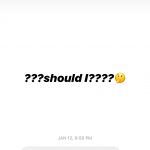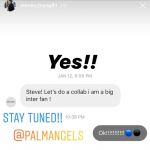 The # 1 of the Nerazzurri also participated in the Gucci event, posting on his very active profile some photos that portray him in the company of Marco Bizzarri, president and CEO of the Italian brand.
In this way, Inter could mark a further step forward in terms of branding, a way that is already giving excellent results. The fashion-sport union follows the trend that Juve has already introduced in Italy thanks to the collaboration with Palace. This strong trend will increasingly take hold in the world of sport, especially for clubs that focus on streetwear lines to capture a specific and expanding target. AC Milan, for example, considering the history, blazon and popularity of the Rossoneri brand, could be the next to develop this type of partnership with a fashion brand, especially if the interest of Bernard Arnault and LVMH, a group that includes brands like Louis Vitton, Dior and Fendi.
Another possible point of contact could be represented by the national teams that will compete in Euro 2020. There is more and more interest for national teams, especially from the extended point of view of merchandising. Nigeria demonstrates this, thanks to Nike has completely changed the cards on the table, transforming a simple shirt into a real cult object.