5 GIFs from the weekend - The last crazy 90 minutes of Serie A
At San Siro, everything happens between Inter and Empoli, Quagliarella top scorer, De Rossi and Moretti say goodbye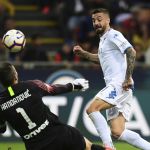 The Serie A season is over, and not without emotions during the 90 minutes played almost all at the same time: at the end in the Champions League spots there are Atalanta and Inter, with AC Milan qualified for the Europe League despite the 3-2 win in Ferrara. That of San Siro among Spalletti's boys was undoubtedly the most uncertain game, which made the Nerazzurri fans suffer much more than expected until the final whistle: in Serie B, and it is a severe sentence for what we have seen this season, it goes there Andreazzoli's Empoli that yesterday missed many chances and relegated with their head held high. So Genoa is safe after a sad 0-0 in Florence. Meanwhile, at the Olimpico Daniele De Rossi played his last with the AS Roma shirt in a climate that was touched and at the same time grateful to his beloved captain.
Other things happened over the weekend: Bayern Munich won the German Cup while surprisingly but not too much Valencia defeated Barça in the Copa del Rey final; Italy Under 20 also beats Ecuador and goes to the knockout stages of the Under-20 World Cup with a game in advance; Cittadella-Verona is the final for the promotion in A.
# Ali Adnan with the left foot!
The former Udinese and Atalanta Iraqi left-back had started badly in MLS, before this super goal with his weak foot.
# Charlton's party
At Wembley there was the play-off final for the promotion in the English Championship, and at Sunderland it went very badly again, mocked at the 94th.
# Ezequiel Barco, wow
It was not by chance that we had included him among the 10 players to follow in this Under-20 World Cup.
# Best goalkeeper of the league
According to the statistics is the Slovenian, and yesterday showed why in the final minutes of Inter-Empoli.
# The Coman's touch
The Frenchman is one of our favorite players, still decisive with the goal scored at Leipzig last weekend.