5 GIFs from the weekend - Tears everywhere
To greet retiring champions, to celebrate a title or avoided relegation, for desperation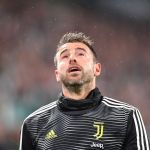 Just 90 minutes separate us from the end of Serie A and the situation is tangled up like never before. In the left part of the ranking are still to assign two Champions League's spots: after the Inter defeat in Naples, the draw between Juve and Atalanta and AC Milan's win, the Bergamo players are virtually in third place and masters of own destiny as well as the other Nerazzurri team. The struggle to avoid the relegation is uncertain as never before: Empoli would be safe at the moment, Genoa and Fiorentina are playing for A in the direct clash scheduled at the Franchi next week.
Abroad, Bayern Munich won their 27th German league and therefore, for the first time in history, the five great European championships were won by the same teams for two years in a row. Meanwhile, Manchester City won the FA Cup final 6-0 (with Guardiola explaining the movements to Sterling during the awards ceremony), while Benfica, Galatasaray and Genk triumphs: we'll see them in the next Champions League. However it was a weekend of tears a bit everywhere, due to retires and farewells: the most significant? Allegri and Barzagli who greet Juve, Abate leave AC Milan, Pellissier separates from Chievo, Ribery and Robben do the same with Bayern.
#1 Zielinski from downtown
In the 4-1 Napoli win over Inter Milan, it was the Polish who open the match: this time it was impossible to blame Handanovic...
#2 Perfect scheme
Lille earned second place in Ligue 1 with a great season: against Bordeaux also a superlative goal signed by Loic Remy.
#3 Ribery in his own way
How many goals will the French have made like that?
#4 Puskas Award
Directly from Romania, the Portuguese Filipe Teixeira from Steaua.
#5 Finally Suso
If only the Spaniard woke up a little earlier...