5 gif per farvi tifare Croazia ai Mondiali 2018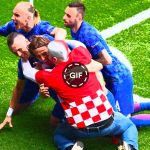 While it's debatable whether he really is a better player now than he was a couple of years ago, or just more appreciated by the general public, no one in Croatia would dispute that the team has grown even more dependent on him. New manager Zlatko Dalic started using him higher up the pitch as a No10 – an interesting throwback to Modric's early days. Everything revolves around him now, and Modric's performances will be absolutely crucial for Croatia. He's not just a playmaker these days: he's now also the captain, a leader and – sadly – a source of controversy.
An urban boy with an insatiable hunger for goals, he took the tram to training at Dinamo Zagreb every day for 16 years. He never wanted to sign the kind of contract that players including Luka Modric and Dejan Lovren accepted from chief executive Zdravko Mamic, which resulted in the ongoing legal case, and left for Rijeka in 2013 where he scored 37 league goals in 42 league appearances.
Mandzukic may not be as tireless as he was when Felix Magath said of him: "He could play two back-to-back games in high tempo, but no coach can tame him", but he is just as intense and ferocious. He doesn't mind playing on the wing if need be - in fact, he'd probably play full-back if asked. The amount of effort he puts in is just incredible.