Cleveland Style
The Cavs aren't playing the best basketball every but at least they're winning the Style Game
The three-time defending Eastern Conference champion Cleveland Cavaliers came out in style for Game 3 against the Indiana Pacers. LeBron James was working overtime to make sure the Cavaliers represent a unified team throughout the 2018 NBA playoffs. The Cavaliers 15-man roster entered Bankers Life Fieldhouse for Game 3 of the first round series in matching suits. The suits, a gift from LeBron James, were all custom fitted and created for the team to enter in style together as one. It was definitely a nice gesture and a cool symbol of team unity. They wore classic medium grey suits in super 120's twill, made by the designer, Thom Browne.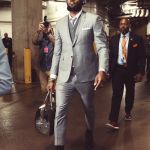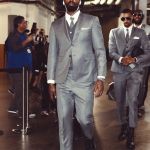 The chic look also featured white oxford shirts, a gray tie, and a gray cashmere cardigan sweater. To finish the look, players were also gifted black leather boots, matching overcoats and bags from Thom Browne. The look was planned and the team was fitted for the suits several weeks ago. So all of the players had the suits in advance to bring to Indiana. Except for one. Recently traded Cavalier, Isaiah Thomas was trolling NBA's Instagram post tonight. He commented saying he remembers getting fitted for these suits and was wondering where he is? Isaiah's got jokes. Unfortunately for him he never got the suit. LeBron James traditionally gives out gifts to the team in the postseason as sort of a unifying show of gratitude and a way to motivate the team to play harder.
The Cavaliers ended up blowing a 17-point lead to lose Game 3 of their first-round series with the Pacers. After the game when asked what he felt could be done to make his teammates play better. LeBron insistently defended his teammates saying everyone could play harder including himself. LeBron had six turnovers. The energy just wasn't there for the Cavaliers. Maybe LeBron can find another way to motivate the team ahead of Game 4.