LeBron James could be interested in signing for the Warriors next summer
According to reports from ESPN, the Chosen One could consider to join Golden State at the end of the season
Even before you can start with the polemics: we know, it's a big "IF", big as a house. But it' still an "IF" and we like to think that there's a chance that it could become something more in the future. But what are we talking about? About LeBron James. The Chosen One is always a hot topic and today he indirectly broke the Internet, at least among NBA enthusiasts, when the news about a possible move towards the Golden State Warriors in the summer emerged.
At the end of the current season - that could actually end well for the Cavs, but the premises aren't' good - LeBron will have the chance to decline his Player Option with the Ohio franchise, becoming an unrestricted free agent and sending the whole Association into panic for the third time. And even if a second "decision" is quite unlikely, it's not so certain that James will decide to re-sign with Cleveland, even if that's the most likely hypothesis so far. In the three years since his return to the Quicken Loans Arena, in fact, the Cavs have reached the Finals every season, but they lost two times against the Warriors and only the miraculous comeback allowed them to win at least a ring.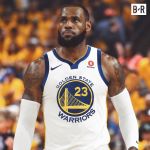 "If you can beat them, join them"? Well, maybe. The certain thing is that LeBron is no longer a kid and he still wants to win some championship before say goodbye to basketball. And here why the news reported by ESPN's Chris Haynes, which says LeBron could be willing to listen to an alleged Warriors' offer in the summer, means so much. Is it really possible to see Steph Curry, Kevin Durant, and King James on the same team on the Bay? Maybe not, but we like to think there's a chance.