Lacoste's new "Timeless" campaign
The video testifies the iconic polo by Lacoste through all the decades it lived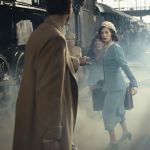 Not long ago we've told you about the prestigious collaboration between Lacoste - a French brand created by the tennis legend René Lacoste - and the last crocodile, Novak Djokovic. The visuals of the collection dedicated to the Serbian tennis player, photographed by Jacob Sutton, recalls the Thirties looks, a period when René created the iconic polo LACOSTE L.12.12.
Now, Lacoste presents the movie of the "Timeless" brand, the core of the new campaign by the crocodile. The history is set in the 30s when a man falls in love immediately for a beautiful woman, it's love at first sight. The two start to chase each other across the train's carriages, that starts to change, first with a 40s style and then all across the decades, untile present age. All following a sudden change of style, with a unique icon that stays unchanged, the Polo by Lacoste.
The video has been made by the Oscar candidate Madeline Fontaine, with Max Richter's music. With the will to remind us that life itself is already a sport, this video will be broadcasted on television shortly.