VICE US' documentary about Calcio Fiorentino
An amazing journey, halfway myth and tradition
The most followed sports change - just like habits - depending on the country or the continent you visit. Normally, though, regardless of the local habits, the most popular sports are always the same: football, basketball, American football and - in the US - baseball and hockey. This time, though, the VICE US' section, VICE World of Sports, took care of a minor sport - but not less fascinating - that is played in our very country.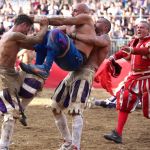 We're talking about Calcio Fiorentino, a discipline halfway myth and tradition. On time per year, in fact, the inhabitants of Florence gathers to watch this gladiatorial show that, it's said, gave birth during the years to modern football and rugby. Differently than those sports, Calcio Fiorentino has no money as a prize, but it's played for honor and glory, conquered during the 50 minutes on the field of Santa Croce. No tourists around, then, but only Florentines anxious to see their representatives prevail on others, in an orgy of sports adrenaline that perfectly represents the spirit of the city. And just like others events like the Palio of Siena, there's also the neighborhood's honor at stake.
To challenge each other, there are the four historic neighborhoods of Florence, the Reds of Santa Maria Novella, the Greens of San Giovanni, the Whites of Santo Spirito and the Blue of Santa Croce. 27 players per team challenge each other with punches and tackles in a stadium atmosphere. You only have to enjoy this amazing documentary realized by VICE US about one of the most characteristic Italian traditions.