The post-Mamba era begins: Nike launches the Kobe A.D.
The first LA Lakers' champion's signature after the retirement
Let's face it, when NBA regular season started a few days ago, we all felt a little sad for the lack of a little something. For the first time in 20 years, the Los Angeles Lakers' speaker hasn't pronounced those familiar words: "At guard, from Lower Marion High School: Kobe Bryant!". And everyone at the Staples Center, where on April 13 Kobe played his last (and 1556th) NBA game, scoring 60 points and making all the Lakers supporters go crazy, felt a little sad.
Today, few month later, Kobe has certainly got over the adrenaline for that last game, but he hasn't stopped from taking his mamba mentality all over the world, like he did this summer in Milan. As a proof, on November 22 his first post-retirement signature silhouette, the Nike Kobe A.D., will be released.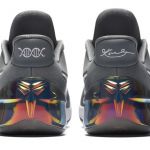 Kobe has decided to become ambassador of himself, taking his winning mentality and maniacal attention to details in every other aspect of his life. This shoes are the first product of the brand new mamba mentality 2.0, which is more cold and rational than the previous one, but even more successful.