History and aesthetics of Real Sociedad's stadium
How Anoeta, the stadium that will host Inter's Champions League opener, has changed
Real Sociedad return to the group stage of the Champions League - ten years after their last appearance in Europe's top competition. That was in the 2013/14 season: the Basque team finished fourth, picking up just one point in six games against Manchester United, Bayer Leverkusen and Shakhtar Donetsk. Since then, some things have not changed. Although Real does not have the same policy as Athletic Bilbao of signing only Basque- born players, the team is still an expression of the region, with the majority of the squad made up of Basque players who grew up in the youth system. However, for almost thirty years there has been an opening for foreign players, which has led to a policy of player trading in recent seasons. The club mainly buys young youth players whose departures can bring the club large revenues, as in the case of Alexander Isak, a Swedish striker who was bought by Borussia Dortmund for around 10 million euros and sold to Newcastle United for over 70 million euros in the summer of 2022.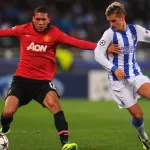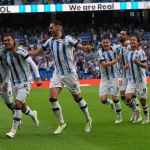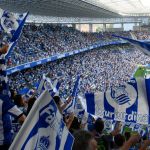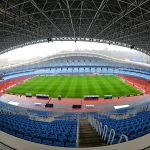 The really big change compared to ten years ago is the stadium. It's still the same, but together it's completely different. Yes, because Real Sociedad still play in San Sebastián in the Anoeta, which is now called the Real Arena for sponsorship reasons and has become a small cathedral after an extensive renovation between 2017 and 2019. The most important measure was the removal of the athletics track, which ran next to the football pitch and denied fans an optimal view. The work cost a total of almost 79 million euros, but allowed Real Sociedad to have a stadium that moves with the times. Of the original structure, only the second ring of the two main stands remained, the rest was demolished and rebuilt. Most importantly, new stands were built next to the pitch, increasing the capacity by 10000 seats to a total of 39313.
The renovation work also led to a revolution in the exterior of the facility. The load-bearing elements were retained, but a roof made of a blue polymer coating was added above them, as if to represent a Real Sociedad flag in the heart of the Amara district, the part of the city where the Anoeta is located. The peculiarity is that from the outside, the stadium still has its original oval shape, just reworked in a modern key with a curved roof, similar to many other stadiums in Europe, while from the inside, the Anoeta gives the impression of a rectangular stadium. However, the transformation has not only taken place on an architectural and aesthetic level. The difference is also noticeable on a sporting level. Before these works, Real Sociedad played in a cold and aseptic stadium. Today, Real Sociedad's home games take place in a stadium that is bubbling over with passion and ready to welcome the Champions League.