Half a century of Lotto in the new 'Stadium Icon 50 Years' boots
The shoe worn by Cafù, Gullit, Romario and Gascoigne among others
In the 1990s, some of Europe's greatest footballers wore Lotto Stadio on the pitch, the Italian brand's historic boot which celebrates its 50th anniversary this year. Demetrio Albertini Ruud Gullit, Romario, Cafu, Aldo Serena, Youri Djorkaeff, Gascoigne, Ancellotti and Donadoni are some of the champions of the time who made the silhouette immortal, which Lotto is now re-proposing with a limited edition of 1200 pieces. The "Stadio Icon 50 Years" is a tribute to the history of football and to that of the Montebelluna brand, which throughout the season is planning special events and releases to celebrate half a century of history.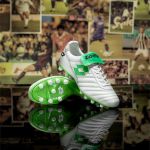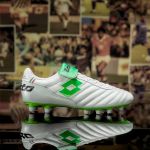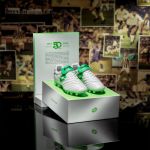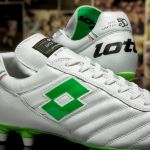 The new model echoes the retro style of football boots, with the large tongue typical of Lotto models of the era. The pearl white is broken up by the neon green that highlights the Lotto logo and sole. The entire upper is enriched with details celebrating the Italian brand's milestone, particularly on the heel, where the Lotto logo and the embroidered tricolour detail still stand. A special box has also been designed for the shoe, inside which some of the key steps in the history of the brand and its importance for the aesthetics of football are recounted.
The Lotto Stadio Icon 50 Year is available online on Lotto's website.