Nostalgia is taking over football
Old times and the future generation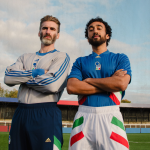 Where does the power of nostalgia come from? What is so special about retro kits, old boots and legends of the past? We can say, as is often done, that it all simply stems from the seductive memories of youth. In a football obsessed 1990s and 2000s, members of Generation X and Millennials can freely carve out a space to indulge in memories of their youthful years of innocence, carefreeness and happiness. The big brands know all this, since the Gen.X-Millennial group normally has the most buying power, the veneration of vintage football is seen almost exclusively as a marketing strategy aimed at fans in their 30s and 50s.
But has anyone ever thought about this phenomenon from the perspective of Generation Z? Those who grew up idolising Cristiano Ronaldo but constantly heard about the unstoppable Brazilian Ronaldo, the 'real' Ronaldo as they say. Those who watched Real Madrid dominate in Europe in the mid-2010s, but, according to discussions and debates of other generations, never measured up to AC Milan or Manchester United in the 1990s. Those who witnessed Juventus' decade-long cavalcade in Italy, punctually accompanied by complaints about the decadent level of Serie A compared to the football of a few decades earlier. Since 2010, the sport has largely been run as a global business without real passion, with eyes only on money and support from rich Middle Eastern countries and Chinese betting companies. It is becoming 'artificial' and 'fake', which makes fans of a certain age want to prove their authenticity and loyalty. They have always been there, or rather, since before football sold its soul. As a result, an entire generation (Generation Z) has grown up almost forced to believe that football was 'better' 20 or 30 years ago. Paradoxically, there is no way for younger fans to witness Roberto Baggio's 1994 penalty or Dennis Bergkamp's 1998 wonder against Argentina, except through film photos or blurry clips. The iconic Juventus away jersey from 1995-1996 and Ronaldinho's white-gold Nike 'Tiempo' boots are now only available on the second-hand market. For a Generation Z fan wanting to relive the 'old days', this all looks, well, fake.
March 2023 specifically is experiencing a real football vintage craze. The acclaimed 'Icon' line from adidas was released on 1 March, seen by many as another step towards the fusion of football and streetwear, another area full of retro elements. The jerseys of Juventus, Real Madrid, River Plate, Bayern Munich, Ajax (and others) were reinvented into '90s style uniforms, with results and reactions tending towards the positive.
Not even a couple of days later, Nike decided to venture into the early 2000s, taking inspiration from Ronaldinho's 2005 Nike Tiempo crossbar challenge to promote the new Corteiz x Nike Air Max 95 trainers. The American brand recruited British talent Phil Foden with the task of recreating the mythical advertisement while wearing the shoes. A clip that arouses much, perhaps too much nostalgia in football fans around the world.
And finally, on 6 March, Nike announced the release of the 'End of Season' ball for the Premier League. Given the main theme of this season (the 30th anniversary of the EPL) we can see many elements inspired by a 1992-1993 model produced by Mitre, also present in the ball that has been used so far for this season's matches. Fascinating because it is modern but still characterised by its link to a different and distant era of football, in which the top 5 positions were occupied by Manchester United, Aston Villa, Norwich City, Blackburn Rovers and QPR. This release only demonstrates the English league's desire to return to the past. Will fans of the 1990s and 2000s appreciate 'their' football being copied and tweaked? Absolutely not. In fact, this is not a strategy aimed at this demographic so obsessed with authenticity and originality. The releases of the past weeks are aimed at young fans who grew up romanticising a bygone era.
Generation Z loves retro. The 80s, 90s and 2000s are highly appreciated by those born in the 21st century. There is something about the exotic aura of the past, along with the strangeness and eccentricity of it all, that triggers indescribable emotions. Let's forget football for a moment and consider how the Y2K movement is at its peak among young people. The boom of nostalgia and old looks fascinates Gen. Z, which is why we are witnessing a revival of all aspects of life in the 1990s and 2000s. Besides fashion and sport, TV, film and music also revere these forbidden times, because that is exactly what they are: forbidden, unattainable, impossible to achieve. The fascination of this era is not in what it offers, but simply in the fact that it cannot be experienced, leading to extreme levels of romanticism and the desire to be able to go back. The 1990s, for us, seem simpler, free of modern complications such as COVID-19 and the war between Russia and Ukraine. It is natural for us to want to experience such a seemingly carefree era, and so we cling to what the past has left us: clothes, songs and various bizarre accessories. In this way, we respond positively to the hardships of today's world, just as the Indie sleaze did during the Great Recession. Often, the thing young people most want is to go back in time, and this nostalgia movement is the closest thing we currently have to a time machine.
Going back to football, it's not really the items and objects themselves that are desired: it's the experience of being there for their release or seeing them worn on the pitch by one's favourite players. We want to be able to say 'I remember that, I was there. This thing belongs to my generation," which is why we are seeing all these releases. You may have noticed, however, that in order to feed the hunger for vintage and authenticity expressed by Gen. Z fans, products are also being promoted using modern football stars. Using old stars would defeat the whole purpose of this strategy. Contrast should be created with current players and old items or trends, so as to make Generation Z believe that they are living that authentic and real era of football on their skin, live. Isn't it exhilarating to see 23-year-old Phil Foden recreate the famous 2005 Ronaldinho commercial? That crossbar challenge had a certain 'cool' factor then, as it does now almost 20 years later. Even those who weren't born in time to see it premiered grew up admiring the commercial and trying to imitate it at their backyard playground. But it was never quite as genuine to appreciate it as fans a few years older: it's as if it belongs to them, after all, they were there and they remember it. So to see a player from this generation pretend to be Ronaldinho and recreate the iconic crossbar challenge gives Generation Z this feeling of authenticity and belonging. The same goes for the 'End of Season' ball. Seeing Erling Haaland score with a ball that evokes the days of Andy Cole, Alan Shearer and Teddy Sheringham, gives us younger fans the impression that our era of football - despite the soulless commercial mores it has been sucked into - can come close to the authentic and true 1990s and 2000s.
It is an unusual strategy, but it works. A big part of what makes many football products popular is who promotes them. Ronaldinho may be a legend immune to the weather, but if brands want to appeal to our generation, they have to adapt to who our current idols are and exploit their appeal. Our adventures as fans have a lot to do with the players we grow up with, so to see them bring some 90s vibes back into football is really special. It makes us feel more involved in this throwback.
If, however, this era of football became too easy to achieve, the charm in question would definitely be lost. Remember that much of the attraction Generation Z feels for the 1990s and 2000s era comes from the impossibility of actually experiencing it. A forbidden fruit that suddenly becomes all too available and loses its value. Moreover, over-reliance on this strategy can lead to a serious inability to create new narratives and stories. Repurposing modernised retro items is clever and can be profitable, but what does it say about the current state of football? Do we have nothing new to sell?
Brands must proceed with caution, because going over the edge could be fatal and destroy the commercial momentum created by this vintage-mania.