The new "Origins kit" by Celtic is a profound tribute to Irish roots
An eruption of pride and heritage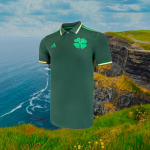 In 30 years, when jersey fanatics flip through the archives and come across the 2022-2023 season, they will most likely see it for what it has been so far: an obsession with special edition kits. There is a new release seemingly every week, and clubs are not shying away from daring designs and bold collaborations to boost their brand. It is certainly fun and intriguing to witness, but we must not forget that at the end of the day this phenomenon is purely commercial. Few of these jerseys have deep, real meaning that transcends football and touches important social values. This, however, does not apply to Celtic FC. A club globally known as a true exponent of tradition and pride has just released a special kit that embodies their strong heritage perfectly. Welcome the new 'Origins kit', made by adidas.
The kit is very simple: a deep emerald color as its base, contrasted by the front (Dafabet and adidas) and back (Magners) sponsors in a popping forest green, also found on the four-leaf clover proudly sitting on the chest and introducing you to the Irish roots of this jersey. Zooming in closer to the details, we can find an Irish Tricolor trim around the collar and sleeves, while the Celtic cross on the back of the neck adds a finishing touch to the cultural meaning behind this adidas creation.
The jersey comes as a celebratory piece for the club's upcoming 135th anniversary, which will be celebrated on May 28th. The evocative color and details point to extreme devotion to the Irish roots established in 1888 in the Glasgow East End, back then filled to the brim with impoverished Irish immigrants. Celtic initially served as a sports club for this specific demographic, with the main aim of raising money and bettering the lives of those that would soon become known as 'Irish-Scots'.
Introducing the Limited Edition #adidasfootball x #CelticFC 2022/23 Origins Kit

A new emerald green Celtic shirt celebrating our proud Irish origins

Available to Pre-order now

— Celtic Football Club (@CelticFC) March 9, 2023
Thanks to their almost unrivaled success in Scottish football, Celtic are now a source of pride for the Irish-Scots people. Traditions like waving the Irish flag at every home game are part of this strong heritage that many are proud of and feel represented by. Celtic has not only alleviated Irish poverty in the late 19th century like it first intended to, but it also gave these people a way to feel seen and important in a society that initially wanted nothing to do with them.
In these 135 years, the Irish identity behind Celtic's badge has not once abated. Today, millions of Irish - both in Scotland and Ireland itself - passionately support the team and what it stands for, empowering the message that kits like this one send out.