A club we should see in the Premier League, Portobello FC
We interviewed the founder who told us about the goals and dreams of the small London club
Portobello Road is one of London's most iconic streets, a carousel through Kensington that over the years has been the stage for fashion, music, art and entertainment. Notting Hill the world-famous district hosted the set of the film of the same name and it is there in the midst of this mixture of several arts that a club was born that taking inspiration from these influences could only be unique, Portobello FC. A team that plays in the eleventh league of English football, but that for aesthetics and image should be in the upper echelons of what is currently the best league on the international scene for play, finances and more, playing against giants such as Erling Haaland, Momo Salah and Gabriel Martinelli.
A process that takes time of course, and the team's founder Calum Opere-Hoyal himself, whom we interviewed to find out more about this particular club in the English capital, tells us. "We want to be successful on the pitch, but that kind of success takes time, you don't get it overnight." A modern club and one that also looks to Italy. Yes, because among the dreams and inspirations of what Portobello FC aims to be is the desire to become the 'Venezia of English football. "A club truly connected to the local community it represents through the celebration of local culture, art, fashion and music." But beyond dreams and aspirations, we asked him to tell us how one of the most fascinating clubs of recent times came to be, and one that we are sure you will soon hear and talk about, and won't be able to resist the allure of their shirts.
How did your club come about and why?
I've always loved football. One thing I dislike about football however is the lack of creativity and innovation, especially at the lower levels of the game where many clubs struggle to simply survive. Tradition is important however it should not inhibit the evolution of the game. I wanted to build a modern football club that would not be afraid to stand out, do things differently, and challenge the status quo. Living less than a minute away from Portobello Road in Notting Hill, an area in which I have spent the most of my life, I believed that Portobello Football Club could be the football club to achieve this. The area is culturally very rich. It is a centre for art, fashion, and music in London. It is internationally known. It is home to the Notting Hill Carnival, the largest street festival in Europe which celebrates Caribbean music and culture. The very popular film 'Notting Hill' starring Hugh Grant and Julia Roberts is obviously set here. Thousands and thousands of people from across the world come and visit each and every week. Being born and raised in the area I saw a very unique opportunity to start this football club.
Several newspapers have described the club as 'the most fashionable football club on the planet', what do you think? How do you define yourselves?
We want to be successful on the pitch however that kind of success takes time - it doesn't happen overnight. The coaches and players are committed to their development and it is very enjoyable to see the progress being made on the pitch. As the Founder of the football club, I take responsibility for all aspects of the club off the pitch. I have very big ambitions for this football club that are not limited by the current level of football at which we play at. I want Portobello Football Club to be the most fashionable football club in the world as I believe this is a possibility that can be achieved. Portobello Road, Notting Hill is one of the most creative and fashionable neighbourhoods in England. It is the perfect place to try and build a football club that embraces creativity and fashion. I do not believe that you need to be a Saudi prince or a Russian oligarch to be able to make an impact on the football landscape - you just need a vision and the willingness to work hard.
Fashion is of course subjective. Some people may like our kits, others will not. I want people to at least have an opinion. The majority of football clubs, including some of the biggest clubs in the world, release very boring kits each and every year and charge fans a lot of money for them. We are currently designing our kits for the 23/24 football season and they will be very different to what we've released this year. We are also working on making sure they are affordable too - we want as many people as possible to feel a part of this club!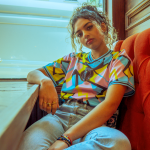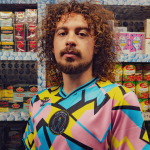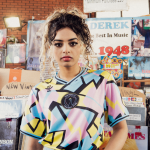 What do you think of the now increasingly close relationship between football and fashion?
Football and fashion have always gone hand in hand however the relationship has certainly gotten closer with clubs like PSG and Arsenal placing greater emphasis on how they want to be perceived. I believe the 'football as fashion' trend will continue. There is a great opportunity for small football clubs to become more sustainable by operating almost as streetwear brands and generating an income through greater sales however this takes a willingness to be more creative and go against the status quo.
Who did you entrust with the art direction of the shirts? How did you conceive them?
When it comes to designing the jerseys - I have to trust my judgement. I ask myself, 'do I think this design reflects the identity of Portobello Road, Notting Hill'. So far we've been successful. Our jerseys for the 22/23 football season were designed by Icarus who did a great job. We also released a Third Kit which was designed by a local artist called FacesOrFaces which has also been very popular.
Is there a big project you are inspired by? Is there an Italian team you particularly follow?
An Italian club I follow quite closely is Venezia FC. Venezia have been very successful in building an internationally acclaimed brand by championing the identity of Venezia. Identity is the most important aspect of a football club. Who are you? What do you represent? I would like Portobello FC to be the 'Venezia of English football' - a club that is truly connected to the local community we represent through celebrating local culture; local art, local fashion, local music. We want to establish ourselves within our local community for sure however we also want to connect with people across the world which is possible with social media.
We've also taken inspiration from football clubs in the lower leagues of the United States of America. Because football (soccer) in the USA is still relatively new, in comparison to Europe, there are a lot of new football clubs forming and being incredibly innovative. Clubs like Oakland Roots, Detroit City, Forward Madison (and so many others) are bringing a fresh perspective to the game. In my opinion, there are a lot of lessons clubs in Europe could learn from the new wave of football clubs in the USA.
What led you to link up with a brand like Icarus?
We decided to work with Icarus for our inaugural season because they specialise in the production of bespoke jerseys - they've produced some very creative designs. Working with Icarus we were able to produce some of the most creative football jerseys this season which has enabled us to partner with Classic Football Shirts, one of the most established football retailers in the world.
From Notting Hill to the Premier League? What are your goals on and off the pitch?
Off the pitch, we want to build one of the most recognisable brands in football. I believe through the power of social media this is possible. 15+ years ago this would not have been possible. In the very short time in which we've existed we've been able to connect with people from across the world and there are still so many more opportunities in front of us.
Yes, I would like to see Portobello FC be in the Premier League within my lifetime however as long as the football club is sustainable and can add value to the local community I would consider that to be successful.
How does your club fit into London's football culture?
London is the home to some of the biggest clubs in the world; Arsenal, Chelsea, West Ham. It also has hundreds and hundreds of small non-league football clubs that you've never heard of. I believe Portobello Football Club has the potential to fit in between. A small club that has a big impact on football. It doesn't matter who you support, if you like what we are trying to achieve, you can support us too.
What is football for you?
For me, football is two things. The opportunity to connect with others and the opportunity to pursue perfection. I want Portobello Football Club to be at the heart of our community connecting people from all different backgrounds. I also want everyone involved in this football club, including myself, to strive to be better and not be afraid to have big dreams!