Does football still have a problem with fashion?
The case of Serge Gnabry shows how players are not always free to be themselves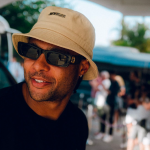 While sports clubs on the one hand flirt with fashion and lifestyle to raise their profile in order to be competitive in a world that seems to stretch endlessly, football itself has not managed to overcome certain cultural barriers that set it apart from other sports. One of these barriers was highlighted yesterday when Bayern Munich's sporting director Hasan Salihamidzic openly criticised one of his players, Serge Gnabry, for attending some of the shows - Kidsuper and Namacheko - at Paris Fashion Week during the break between two of the Bavarian club's matches. "This is amateurish," Salihamidzic told German news agency dpa. "This is exactly what I do not like. It's not Bayern Munich's way to fool around on a day off. A day off has to be used to recover so that you are ready for the next game."
Gnabry had in fact been invited by the two brands during the usual Paris fashion week, as had happened in previous seasons, and had agreed his absence with his coach Julian Nagelsmann between Bundesliga games against Red Bulls Leipzig and Cologne. Two games that ended in draws for Bayern, who saw their lead at the top of the table shrink to just three points over Union Berlin. And perhaps it was these two missteps that increased the pressure on Bayern and sparked Salihamidzic's ire. But above all, these statements show how much this supposed progressivism of football is sometimes exposed by a masterful and punitive view of professionalism, as if the life of an athlete were not already marked by sacrifice and deprivation.
Of course, top footballers are privileged, able to fly to Paris in the middle of the week to attend the most exclusive shows and return in time for training and matches, but as in any professional field, one has to defend one's private life and keep time free for competition. Never more so than for an athlete, being able to detach yourself from the pressures a season can create is an underrated quality. Not allowing yourself to be emotionally overwhelmed by the rollercoaster that balances every phase of your life is a fundamental quality to persevere at a high level. And it is still an underrated aspect in a sport that is slowly becoming aware of the mental health of its athletes, which is synonymous with physical health.
The constant tension caused by the need to achieve outstanding results both on and off the pitch, as well as the rather detrimental aspect of the constant social presence of clubs and players, i.e. always being at the mercy of the judgement of others, means that there is not always real freedom to express one's interests beyond football. We at nss sports are aware of this and last year launched a format - More Than - that aims to combat the stereotype of the athlete who is only seen as a performer in their sport. And it does so by using fashion as a hook to unhinge the prejudices Salihamidzic used to condemn his player.
Indeed, the Bayern manager's words showed that fashion in football is still seen as a distraction and a passion too far removed from the qualities required of a player. The same tones were not struck, for example, when Manuel Neuer broke his leg skiing during the break between the end of the World Cup and the resumption of play - a far more serious offence than attending a fashion show. But unlike fashion, skiing does not challenge the machismo model of the athlete, does not confront the idea of a closed and companionable masculinity with a new, open and sensitive masculinity. What the Bayern manager accuses Gnabry of is, in short, breaking a stereotype that is still all too common among footballers.
As Danny Williams, one of the protagonists of More Than, explains, "There are still a number of taboos in the world of football and players are still not willing to talk about it because they live in a bubble, they are paid by clubs and they have to follow rules". Of course, there are no written rules preventing the players from spending their free time away from the team, so Nagelsmann himself explained, "Like a normal employer, you can not tell your employees that they have to go to church at 10am on Sunday, have lunch at 12pm and sleep at 2pm. It is important that everyone can organise their free time in a way that makes them happy. But it must always be useful for work". But there are unwritten rules that are passed on in the locker room and from which it is still difficult to escape.