Red Bull Leipzig could switch from Nike to PUMA
Is the swoosh abandoning the Red Bull project?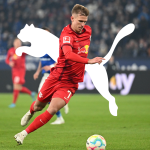 According to recent rumours circulating in the Bundesliga, Red Bull Leipzig is on the verge of terminating its sponsorship deal that has tied the team to Nike for nearly a decade in order to reach an agreement with PUMA. The news is particularly significant as Nike has consistently been the project's biggest supporter since 2014, when it took over the teams aesthetic from Red Bull. With Red Bull Bragantino passing to New Balance last year and Red Bull New York tied to adidas due to the collective bargaining agreement in MLS, only Red Bull Salzburg will remain from next season, the first team bought and the closest to the company's headquarters.
The contract between Nike and Red Bull Leipzig was due to expire in 2024 and guaranteed the German team just $60 million over its ten-year term. PUMA's offer, on the other hand, will bring $150 million into the club's coffers over ten years, a much more lucrative solution for a team that has established itself as a model in Europe in recent years. One of the reasons for this surprising deal seems to be the position of Oliver Mintzlaff, who is now one of the CEOs of Red Bull and had worked as sporting director for PUMA from 2000 to 2008. The relationship between Mintzlaff and his former employer may have played a key role in securing the deal with PUMA, which could usher in the rise of another football conglomerate after the merger with City Football Group.