When Inter, Milan and Roma were soda cans
Blame the shirts made in the 2016-17 season by Nike and adidas
With the World Cup over and Serie A now back on our screens, our eyes can once again feast on some truly unique kits. This season, Napoli has established itself as the queen of quirky match threads, with their Halloween and Christmas edition jerseys, followed by the recently released Saint Valentine's special. It is not rare to see the partenopei suit up with bizarre graphics, and this approach is seeing increasing popularity among several Serie A teams. Designers are now explicitly tasked with drawing up eye-catching (and sometimes tacky) shirts with motifs that go beyond football, whether it is bats representing Halloween, or reindeer bringing Christmas spirit. And although this trend was popularized very recently, the 2016-2017 Serie A season saw three different cases of this trend, with Inter, Roma, and Milan producing some of the most comically unusual jerseys in Serie A history. These kits did not serve the purpose of promoting a certain festivity, and they may not have had a specific purpose at all. But as time passed, fans realized one thing: the kits looked like Sprite, Fanta, and Coca-Cola cans.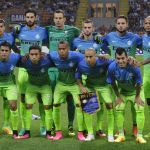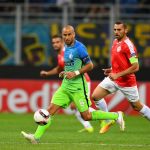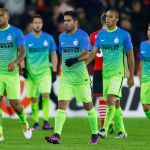 First on the list is without a doubt the most memorable kit of the three. Inter's sprite jersey surprised many fans as soon as it became visible to the public, and went down in history as one of the ugliest ever. The template Nike chose this season was that the top was a rather light sky blue, which faded into an almost blinding green at the bottom. It was meant to help the players stand out in the shining lights of the San Siro, and one could argue that it certainly fulfilled its promise, albeit negatively. The kit immediately received heavy criticism, and as if that was not enough, it debuted in Inter's 0-2 loss to Hapoel Beer Sheva in the Europa League, not the presentation Nike would have hoped for.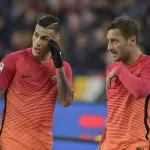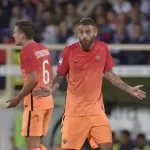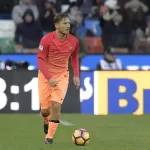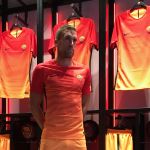 Then there is
Roma,
whose third kit did nothing but warrant comparisons to a
Fanta can
. Due to the fact that Roma and Inter both had Nike as their technical sponsor, the pattern was very similar. Where Inter's jersey went from blue to green, Roma's started with vivid red and progressed into a blinding orange color for the lower part of the shirt, as well as the shorts and socks. The Fanta kit was much better received by fans, and it is fondly remembered as one of the last kits worn by
Francesco Totti
, who retired at the end of that season.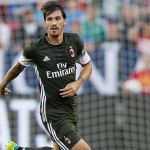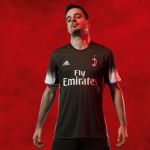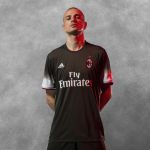 And finally, AC Milan's 'Coca-Cola Zero kit' made by adidas. Nowadays, the drink usually comes in a red can with black writing, but a few years ago it was the complete opposite: black with sporadic red and white accents. AC Milan's third kit presented similar features, with a deeply dark green base, white adidas stripes running down from the underarm to the hips, a touch of white sprayed onto the sleeves, and red cuffs. And although the green may not give you 'Coca-Cola vibes', it was so dark that comparisons to Coca-Cola Zero cans came pouring in regardless. In an era where simplicity on football kits somewhat still reigned, these jerseys drew a lot of attention to themselves and became Internet meme sensations, and now, 6 years later, can only be remembered with the following label 'soda kits'.