The new artwork created for the Emirates Stadium
Arsenal has decided to collaborate with several artists to renovate its beautiful home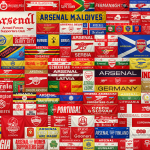 "We started with a blank canvas with the hope to capture and express our rich history, our values of community and progress and reflect what Arsenal represents in 2023 and beyond." This is how Arsenal chief executive Vinai Venkatesham commented on the Gunners' new design, unveiled on Wednesday 11 afternoon. Together with a group of Arsenal fans, Turner Prize-winning artist Jeremy Deller, critically acclaimed artist Reuben Dangoor and distinguished graphic designer David Rudnick led the design process during a series of consultations that began in April 2022.
The workshops were designed to gather information about the club's heritage, culture and community to inspire eight works of art that represented what Arsenal stood for and will stand for in 2023. Among the many supporters who helped bring the new artworks to life are former club legends, including Kelly Smith, and family members of departed legends, including Jill Armstrong, daughter of Geordie Armstrong; the family of David Rocastle; Lynne Hapgood and Jake Hapgood, daughter and grandson of Eddie Hapgood; Graham Drake and Liam Harding, son and great-grandson of Ted Drake; and Reg Lewis' stepson, Richard Stubbs.
"This has been a fantastic project, made possible thanks to so many members of the Arsenal family here in Islington and around the world. We could not have brought this project to life without everyone's collaboration and their passion and dedication to this work."
The unveiling of the artwork last night marks a historic moment and an expression of Arsenal's history, community and progress.