The second chapter of the collaboration between Off-White and Milan
New year, new outfit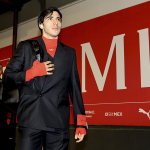 AC Milan turned up at the San Siro yesterday for the match against Roma in outfits from their style partner, the brand founded by Virgil Abloh OFF-WHITE. After announcing their partnership, the collection had opened with a Varsity jacket that won everyone over with its mix of streetwear and sportswear, the Rossoneri wore a new suit to the Meazza tunnel. A black four-button double-breasted suit with a red turtleneck shirt underneath, featuring the OFF-WHITE logo. The special feature, however, is on the back of the suit, which, like the shirt, has the match numbers printed on it as well as two vertical stripes in grey. The black leather backpacks also have the same numbers printed on them so that they are not covered when worn.
Once again, the brand has set itself the goal of renewing the concept of
Formal Wear
for football clubs, a mission that
Off-White
has decided to undertake by becoming the official
Style and Culture Curator of AC Milan
and not just a supplier of elegant clothes, marking a new era in the relationship between football and fashion. A relationship that in 2022 was the protagonist as evidenced by the many agreements signed by the great fashion houses and football clubs, the arrival of
Balenciaga
who decided to dress the
Stade de Rennes
, until
PSG
with
Dior
that, in conjunction with
AC
Milan
, presented the new collection for Parisian stars.