Irish national terminated with Umbro for no real reason
A querelle destined to end up in court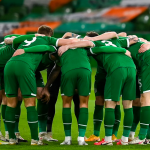 Something very similar had happened a few months ago between Le Coq Sportif and Cameroon, now a similar situation has arisen again in north-western Europe and has involved Umbro and the Irish national team. A few days ago, the FAI (Football Association of Ireland) announced that it had terminated all relations and sponsorship with JACC Sports, Umbro's distributor in Ireland: "The Football Association of Ireland can confirm that it has today terminated its sponsorship agreement with JACC Sports Distributors Limited, in accordance with the terms of the agreement. The FAI would like to thank JACC Sports for all its support to the Association over the years and wishes it all the best in the future. The Association respects the confidentiality of the parties and will not be making any further comment on this matter."
An unmotivated choice and one that obviously triggered the anger of the brand, given the existing contract valid until 2026. The partnership between Ireland and Umbro is a fairly important one, only resumed in 2020, but in fact the English brand was the very first technical sponsor of the national team and was also from 1995 to 2016.
And this is precisely why the issue seems destined not to end here, but will probably go to court, given also the statement of the president of JACC Sports in one of the most widely read national newspapers: "the company rejects any alleged attempt by the association to end the agreement. The FAI is plagued by mismanagement, financial scandals and horrendous decision-making during CEO John Delaney's 15 years, from 2004 to 2019; Delaney and the FAI are currently under investigation for a number of irregular financial activities." A statement that leaves no room for further interpretation, we'll see if the whole querelle will fall on deaf ears as happened between Le Coq Sportif and Cameroon, where the federation announced a new and little known sponsor, in Europe, or if the Irish federation will backtrack, bringing back the iconic rumble once again in its shirts.