Dave put the Stone Island logo on a football jersey
Made for a Santan Cup club, a tournament created by the rapper in 2017
Stone Island has always been a brand close to the football sphere, from its presence in the English stadiums stands, but it has never granted its logo to any club. Last weekend, however, the famous symbol with the compass rose appeared on Dave's team jersey in the tournament created by the English rapper himself, the Santan Cup. The singer sported a jersey signed by New Balance with a remarkable camouflage scale pattern with both the Italian company's patch on it and the lettering version on the chest as a true main sponsor.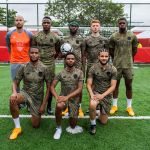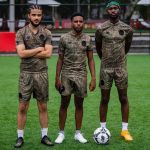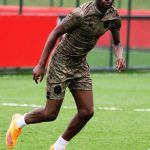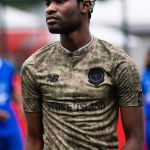 A bespoke jersey that certainly did not go unnoticed, both for the design chosen and for the person who wore it, namely one of the UK's most famous singers. But surely the most intriguing peculiarity remains the one related to the first time of Stone Island on the surface of a game jersey. It is not yet clear whether such a move was endorsed by Moncler, which now owns the brand, and the Rivetti family, which now owns Modena Calcio but has never wanted to associate the club with the fashion brand.
Last year, however, New Balance and Stone Island signed a long-term partnership for now limited only to the release of three NB FuelCell RC Elite, and perhaps this is a consequence of that agreement. Or maybe Dave like all football fans in England, has a strong passion for the Italian brand that has always been the protagonist of terrace-wear style and wanted it to be the protagonist of his tournament. Santan Cup in fact was born in 2017 as a daily competition between teams among the most famous UK rappers, to land this year for the first time in Rio de Janeiro.