When players complain about their FIFA's values
We are again at that time of year when the virtual bothers the real
It's that time of year, the time when every player in the world waits for their virtual alter egos to arrive on FIFA to check what their values are on the most famous football game. It is an important time for every athlete, who after an entire season gets to find out how much progress he has made in the virtual world compared to last season and to understand the real perception insiders have of his improvements. And every year the release of the new chapter of FIFA coincides with complaints from players who, tired of seeing their annual sacrifices rendered in vain by ratings, decide to speak out through their social channels against the production companies, often precisely by invoking competitors as well. The latest of these was Lorenzo Insigne, who along with Toronto very ironically questioned why certain values were given, showing instead that they deserved a few more points.
If Insigne and Toronto made it a laughing matter, there are also those who took it just as personally as Kylian Mbappé. The cover man of the new edition of the game, during a live broadcast on PSG's YouTube channel criticized one of his statistics, saying, "I know I'm not the best defensively. But 36, come on. It's like I'm not there when we defend. I'll go get a coffee instead of pressing in the game." Sergio Ramos, in the same live broadcast, also did not take it well at all, saying, "No I'm not happy. I think it's a little bit higher my overall. It should be higher. I need to train more. I want my score to be higher."
But before we delve into this whirlwind of recriminations and complaints, let's find out in detail how the "player card," the object of contention that defines the values of each player's virtual alter ego, is drawn up. Of course, everything is decided through strange and complex algorithms, so with the players' peace of mind, no one at EA Sports sits down at the table deciding to favor one player over another. The overall, or total score of each athlete, is defined based on two factors: the player's original role and the role used in the game.
So each specific characteristic of a player has a different value than the others, something that allows the game to diversify the various scores and make each statistic different even with the same overall. So, as reflected in every manual written by a pro player, "each entry on FUT's cards, then, is a set of values based on a percentage weight of the specific in-game values, like a sort of weighted average on the specific attributes." But it doesn't end there, each value is also influenced by Overall International Reputation, which is a database that sorts players by how well known they are worldwide.
Algorithms, values and coolness that every year cause problems for the FIFA's top management, aware that it is impossible to always please all the players, who are usually very proud of their talent. In fact, if this year it was the turn of Kylian Mbappé, Sergio Ramos and Lorenzo Insigne, in previous years, on the other hand, there has been no shortage of other discussions. One of the earliest shenanigans goes all the way back to 2013, when current Inter Milan striker Romelu Lukaku was still playing for Everton, which he began by saying, "am I the only one who noticed that I'm not fast enough?" A fairly strong contention that even went on for years, in 2020 he returned to complain, "75 speed? Maybe you forgot about my 36 km/h"-he wrote last year for Fifa 20". Complaints went well because the developers listened to him and in the next edition he went up to 81. That wasn't enough however to appease his ire, in 2021 the Belgian came back again to challenge his values, saying, "let's be honest, Fifa creates chaos with the ratings just to stir up these reactions and get more fame, I'm not in". In short, it is almost impossible to please Inter's current number 90.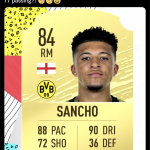 But Romelu Lukaku is not the only one with a history, as reiterated many other of his illustrious colleagues over time have carved out a slice of their time to harshly criticize EA Sports and its algorithms. One of them is Pierre-Emerick Aubameyang, who in his Arsenal days, for two consecutive years on Instagram negatively commented on his overall, which the Gabonese striker deemed far too low. To be fair, Aubameyang's overall score has never been that low, the first complaint dating back to an 87, while the second to an 88. Respectable overall, considering the other stats, which made the current Chelsea striker an impregnable player in the virtual, or to use a technical term, "buggy." Speed is a topic that evidently interests many. Laporte, Dier, Reguillon, and Tammy Abraham are the other players who over time have taken issue with the scores awarded. Often even live, like the Tottenham players or like Abraham, not caring to show the public their reaction.
But another bone of contention concerns passing, another major point of debate that gets players out of their chairs every season. Sancho has been one of the illustrious victims, he who packed an impressive 17 assists in the season before wonders how he can score so low. And indeed, for once, here we have to agree with the player, the estimate clashes, and not a little, with reality.
Therefore, pleasing the players is probably impossible, but we sincerely hope that despite the fact that the game will be discontinued as of next season-this in fact will be the last
FIFA-branded title-footballers
will continue to complain. Not because we are accustomed to controversy, but because it is simply amusing to see how obsessed players are with virtual statistics compiled through strange calculations, as if these could define even a fraction of their performance in the real world. It is a proof of how much the virtual can now influence reality, in all possible aspects, from the jersey market to the evaluation of players.