Will we dress up as cyclists?
From Dior to Cinelli, the new sports trend travels on two wheels
By now it is no longer a surprise to see garments designed for sports performance also used in everyday life, decontextualized from what was the original design and reinterpreted in a lifestyle key. And after over the years we have seen first basketball, skateboarding, mountaineering and finally soccer become trends that can condition the aesthetics and taste of designers and non-designers alike, we have to ask ourselves which sportswear is about to become mainstream. In an age that is not content to live with fads but constantly seeks to find new ones, we are observing how dedicated cycling apparel is being used away from two wheels. Just yesterday during the Dior fashion show with ERL guest designing, jerseys very similar to the cycling one appeared. In turn we have witnessed first the comeback of cycling caps, then Lycra pants and finally aerodynamic goggles, now it is time for the whole outfit.
As with the Bloke Core, for a culture to turn into a real trend, it has to happen that there are two equal and opposite pushes meeting in the middle. On the one hand, there has to be a strong community that, through a deep-rooted presence on the ground and a strong creative sensibility, is able to make such a movement intriguing and appealing even to those who observe it from the outside. And cycling can count on a community of two-wheeled enthusiasts that grows larger and more colorful every day, ranging from professionals with their eyes fixed on the potentiometer to Sunday pedalers who have rediscovered the beauty of moving at their own speed. While we are increasingly transitioning to the outdoors, between technical outfits and green lifestyles, few activities allow one to combine exploration and adventure with everyday use as much as moving around on two wheels with one's own legs as the tireless engine.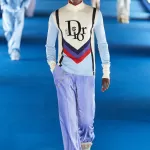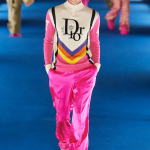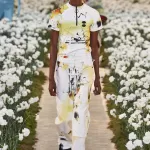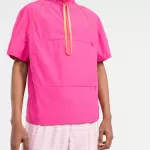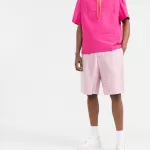 On the other hand, however, must come the certification of fashion brands, which use such an aesthetic for their collections by relaunching and updating it on new garments and modes of use. In the beginning it was Kim Kardashian with the revival of the compression shorts that were used during the 1980s for aerobics classes, but subsequently what seemed to be a purely feminine trend has then been declined on several levels, with fashion companies that in recent years have increasingly gone both in the creation in addition to the ever-present branded bicycles also of kits dedicated to two wheels. A phenomenon that has not been limited solely to womenswear indeed, with pieces in the collections of Off-White, Gucci, Jacquemus and Balenciaga it has become increasingly mainstream.
Notably, Virgil Abloh, who made a jersey in 2020 in collaboration with New York street artist Futura, was an avid fan of outdoor sports, which obviously included cycling. A photo of him during a ride on his Palace and Rapha-customized Cannondale SystemSix made one of the craziest collaborations of recent years even more mainstream, the one between the streetwear brand with the tri-ferg and the London-based brand that perhaps most of all popularized cycling apparel.


The collection seen at the 2020 Giro d'Italia on the shoulders of the riders of the EF Education First team became a case overshadowing the previous one of a few weeks between Supreme and Castelli. Just as we saw in the case of BlokeCore, when these two tastemakers overlap their releases encroaching on sports not exactly related to them one has to be careful. And in fact, since then, cycling has once again become one of the most beloved sports, thanks to the many young up-and-coming talents like Tadej Pogacar, Mathieu Van der Pol, and Wout Van Aert, and the bicycle the coolest means with which to get around without polluting, from Tyler, The Creator's BMX bikes to Frank Ocean's electric VanMoofs.
The same variety and customization is also coming to the dedicated kit and apparel market, once very performance-driven and instead opening up more and more to lifestyle in recent years. Just take the very steep rise made by Rapha, the company founded in 2004 in London that has become the benchmark for all those who want to get noticed while cycling. Sensation confirmed precisely by the comic collaboration with Palace that broke many of the unwritten rules of cycling, which were followed by those with Paul Smith, Gore-Tex and Mr. Porter. It is an approach that looks to young people in major international metropolises more than to competitive riders, and has already found a long line of imitators.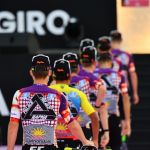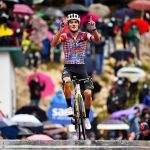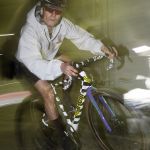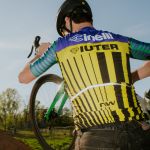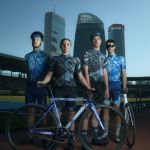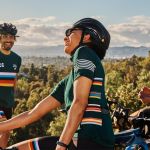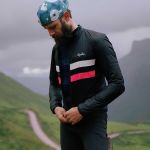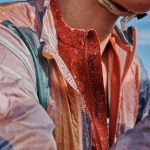 Without necessarily going to New York, or Los Angeles, or even Amsterdam, all cities where the bicycle has become a lifestyle between post-hipster and post-punk, in Italy Cinelli, a historic Milanese brand, in just a few months has carried out two collaborations with city realities seemingly far removed from its brand, namely Internazionale FC and Iuter. Two examples that help us understand how much a world seemingly closed on performance has high-end luxury potential that matches the enthusiasm of so many designers and fashion brands, who can have fun mixing technical fabrics with patterns ranging from retro to futuristic.
After outdoor apparel, from Patagonia to Arc'teryx, has become a constant in our city outfits with that overdressing touch that makes us dress to tackle Everest even when we have to go to the supermarket, why not crease tight Lycra jumpsuits in the most unlikely colors when we unlock a city bike to go for drinks?