Will Calcio Catania change its logo?
The new ownership seems intent on revolutionising everything, both on and off the field
After two unsuccessful auctions with the team in the hands of receivers, Calcio Catania was officially bought by Benedetto Mancini on Tuesday 15. The Roman entrepreneur has saved the club from an already announced bankruptcy and through a company created ad hoc, called Football Club Catania 1946 has acquired from the Sicilian court the entire sports branch of the Etna club. In addition to the big and pompous announcements already arrived in the first press conference where the new president said he was ready to invest right away to bring the club Rossoazzurro back to where it deserves to be, Benedetto Mancini is intent on revolutionizing everything, from the logo to the company organigram, where he has already anticipated the name of Perinetti. Before the official takeover Mancini proudly announced a new logo, designed in Catania for Catania, despite the announcements it is not clear if from next season the president will decide to change it, affixing in the shirts the new crest with the elephant brushed in a minimalist version compared to the current one. Compared to the current one, in addition to the name changed for bureaucratic reasons, the new logo will not have the archaic leather ball and the red and blue stripes will disappear next to the elephant, which in the renewed version is accompanied by the club's name and a semicircle that outlines its shape.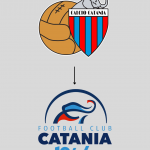 Despite the rescue in extremis there is still no reason to rejoice, the new president must take on important debts to be paid, first of all the one with the League to avoid other possible penalties and then he will have to pay all the outstanding salaries of the team and staff. In addition to this, Benedetto Mancini's past experiences in football have not gone in the right direction. Some time ago, the Roman entrepreneur had tried to acquire Latina and Rieti (clubs that later went bankrupt) but both attempts were unsuccessful and in the second case the matter even ended up in court with heavy accusations against the new president of Catania. These will be crucial months for Catania, which despite the disastrous company situation has almost managed to climb the current and avoid the hot spots of the standings and is now preparing for a rebirth and also sports company, hoping to see it as soon as possible in a category worthy of its square and its history.