UEFA forced Ukraine to change jersey
The European Championships haven't started yet, but the first problems are already there
The national team coached by Andri Ševčenko will have to change the first jersey, produced by Joma, at the behest of UEFA. The Russian federation sent an official letter of protest, which was accepted almost immediately by Nyon. The problem concerns the slogan "Glory to our heroes" on the collar of the shirt, an element that has not gone unnoticed.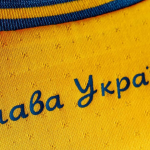 The phrase is taken from a patriotic chant used during the anti-Russian popular uprising in Maidan in 2014, when Viktor Yanukovich was kicked out of Ukraine. A real patriotic chant, which has nothing to do with the world of football, judged to be non-compliant. Indeed, UEFA responded as follows in a note: "After further analysis, the slogan is clearly of a political nature and must be withdrawn in view of official Uefa matches."
The Ukrainian team's debut match is scheduled for 13 June, by which time the shirt will have to be changed. Football and politics merge again, showing how much the latter is able to influence the former and the other way around. This rivalry doesn't stop there, as Ukraine's jersey also features a map of the country's borders, including Crimea, the territory that sparked the dispute between the two nations.