Football start looking at Tinder
The dating app was already an advertising resource, but now, it's present everywhere
The presentation of the players has become an important moment in the media communication of the teams,that among lion's heads and improvised knights (as for Quaresma), exploit every new element of viral interest to create original content. Including, lately, Tinder. Several clubs have used the mechanism of the American dating app to offer its fans a different, more sympathetic show, and, given the usage and match data of Tinder (the 123rd most downloaded app in the world), current.
Cincinnati F.C., the MLS franchise, bought Brazilian Brenner from Sao Paulo on Sunday, and yesterday, on the American club's Twitter and Instagram accounts, the player was presented with a funny video: opening the Tinder app, some important clubs are discarded, until they arrive at Cincinnati FC one, with which instead starts a match. And here Brenner is a new orange player.
The creative method used by teams for presentations now tends to be a certain originality - eSports, nicknames (such as Inter Milan's video for Ninja Nainngolan), or current trends, such as certain memes - are exploited, and Tinder has become an equally singular way of introducing to a new player. In any case, InteractiveCorp's app has been completely cleared of any kind of taboos and intruded even in the communication of football teams. In this sense, Napoli Calcio anticipated everyone by becoming the first club to enter into a partnership with the Silicon Valley club. In 2017, they gave fans the opportunity to meet polish Milik on Tinder for two hours, facilitating the coma back of the striker in the Azzurri world after a long injury. Since 2016, the relationship between Tinder and football has become more of a mechanism that goes beyond communication: it can be a cue, but like all social media, also a business opportunity and a source of visibility. Sports clubs today use every possible social channel - Inter, for example, like many other teams, also have an account on platforms that are only present in certain countries, such as Weibo - and Tinder is one of those to be exploited. The swipe pattern of the match is a way to connect the fans to each other, and to do so through the club.
Tom Glik, chief commercial officer of the City Football Group, commented on the partnership between Manchester City and Tinder last April saying: "Tinder is a global platform that, like football, connects millions of people around the world every day." The other side of Manchester, the United side, went very close to signing a £12million sponsorship deal with the dating app in 2017, that would have been sleeve sponsor of the Red Devils (but the deal did not end). On the other hand, Tinder is estimated to be worth $10 billion, had a turnover (in 2019) of $1.2 billion, is present in 190 countries and is used by more than 57 million people worldwide.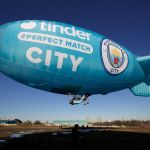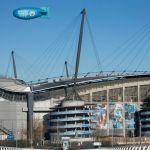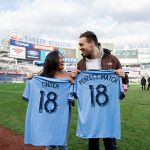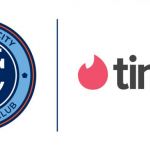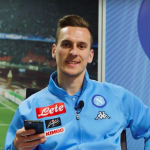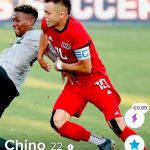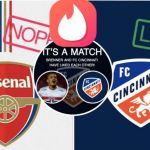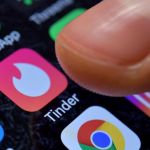 Tinder, it was also a bargain for the football transferk market. Apparently, on two occasions - Dundalk and Bodo/Glimt -, a player about to go to a new team was tracked down in that city of the alleged new club through some fans who, on the dating app, met his profile. The actuality of the case did not prevent the transfer from materialising, and in fact, both negotiations were concluded. In addition, it has been reported that clubs have signed up on Tinder to look for new players, registered in the hope of finding a new team. In this regard, a tinder-like portal has also been created in which teams, by scrolling through profiles, can take an interest in or discard players. It's called the Transfer Room.
Tinder's image cannot come out of its dimension as a dating app, but with the advertisements and opportunities it can guarantee to any sports club - including social media, digital content and events -, its presence in football is a perfect match.