The Converse Chuck Taylor 70 with the Nigeria template
A double pair of sneaker of the project 'Converse by You'
Although the sporting achievements are not top level, Nigeria has become one of the national teams with a unique aesthetic style in the world of football. After the popular release of Nike's lifestyle collection and a fully dedicated Air Max 95 model, the Naija's colors also arrive on Converse, in the historic Chuck Taylor All Star model. The American brand released the custom sneakers on October 1, Nigeria Independence Day, with two different templates.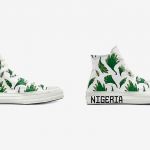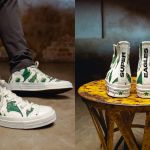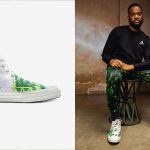 Chuck Taylor's model is very simple. The design of the shoe is the classic one of this line, but with two different patterns in the template. On one type are represented the eagle feathers, animal symbol of Nigeria and already appeared on the garments of Nike's lifestyle collection. On the other, however, there are serrated motifs and with different shades of green that cross each other - this too had already been seen on Nike's collection. Both along the back of the shoe and on the edge of the sole are written respectively Super Eagles and Nigeria, while on the heel, as on many Converse models, there is the patch of the American brand.
This version of Chuck Taylor was created as part of a larger project - Converse by You - in which Converse collaborates with several national football teams - France, England, the United States, Korea and the Netherlands - and allows its customers to customize different Chuck Taylor models for each football federation.
Le Chuck Taylor Naija sono disponibili su converse.com