A Palace x adidas Golf collab is on the way
After the football and tennis courts, the London brand also arrives on the green
Palace is planning a new sport collaboration and announces it a few hours ago through its social accounts.
The British brand has released a fun video in which the golfer Sir Nick Faldo and the TV analyst explain the difference between the way adidas is pronounced in the United States and the United Kingdom, kidding "Say AH-dee-daz in America? In Britain we say AH-dee-daz, not ah-DEE-das''.
Palace is certainly no stranger to collaborations with sports other than skateboarding: in fact, after releasing a collection with adidas Tennis for Wimbledon 2018, the brand has recently collaborated with adidas football for a stunning collaboration with Juventus.
A few days ago Palace had unveiled the entire Spring 2020 lookbook, but at the moment no further information has been given regarding this collaboration. We can only assume, through the white and electric green logo that we see at the end of the teaser, that some pieces of the collabo may have been chosen from adidas Golf's Codechaos line, which uses the same shades.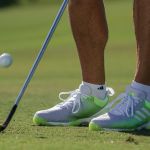 The Palace Spring 2020 collection will arrive in all stores and online on February 14 at 12:00.