The new Inter Milan Christmas campaign is a 90s-style telesales
The last masterpiece of Inter Media House is a non-stop reference to the Italian television culture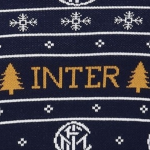 Announced by a short video that appeared yesterday on their social accounts, Inter Milan launched the new Christmas campaign called 'An Authentic Christmas' via Inter TV and on its YouTube and Facebook platforms. More than a video to present the item to buy as Christmas presents, an ironic 90s style tv sales. The inspiration to the Italian television culture is the great leitmotif of the last production of Inter Media House, back from the great media results obtained in the occasion of Christmas 2017 with Inter Bells and then with Interpresents in 2018.
The showman is Raul Cremona - the Milanese comedian who became famous for having interpreted characters such as 'Mago Oronzo' and 'Silvano il Mago di Milano', a great Inter fan, of course - aka 'Ricky Rasola', revealing the new Nerazzurri Christmas jumpers worn for the occasion by Lautaro Martinez and promoting the sale of the blue, back and yellow packs, membership cards and tickets for the next matches. The Argentine striker is not the only footballer to appear in the video, followed by the former Inter centre-back, currently ambassador of Inter Forever, Fabio Galante, and by Milan Skriniar, Alessandro Bastoni, Antonio Candreva, Diego Godin, Romelu Lukaku, Nicolò Barella, Sebastiano Esposito and Cristiano Biraghi, who answers a phone call from coach Conte with a new Motorola Razr that is very reminiscent of the old Star Tac.
The continuous references to the 90s return a few seconds later with the autotune that pronounces the Inter anthem 'C'è solo l'Inter' and then again with the cameo of the Inter journalist Ilaria Alesso, which present the next Neroazzurri matches made up like Emanuela Folliero from the golden ages, and with Astrid Ericsson, who continues the telesales by sponsoring the Eminflex-style Inter bedspread, with a superimposed number. Among the protagonists could not miss Antonio Conte interpreting Papà Castoro, while he tells a Christmas fairytale entitled 'The dream of Martha', the audiobook on sale on the official website.