Philipp Plein is the new Official Fashion Partner of Berlusconi's AC Monza
The Swiss stylist will design the new uniforms of the former Italian Prime Minister's club
The Swiss designer already wrote it on Instagram: 'Expect the Unexpected'!
The connection between Philipp Plein and Monza Calcio, in fact, was among the most random things we could have imagined in these hot summer months, despite the presence of Silvio Berlusconi, who this morning flew (in the company of his brother Paolo, the faithful Adriano Galliani, but also of three journalists who have always been close to AC Milan, such as Monica Vanali, Franco Ordine and Carlo Pellegatti) in Switzerland to close the deal, a fashion partnership between the Swiss stylist and the Third Division team, which never like today are pushing for the promotion in Serie B.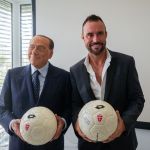 Philipp Plein will provide the Brianza team with all the uniforms and accessories for official occasions, obviously excluding the game kits with which the players play, signed by Lotto. During the press conference a few details also emerged, a mix of sartorial tradition and contemporary trends that we will see on formal outfits. In all the garments, the total black gives way to small touches of red: from the iconic skull on the lapels of the jacket, to the piping of the accessories, to the collar of the shirt, as well as to the crest 'AC Monza' on the chest of the outerwear. Gothic lettering will also be applied to items (including suits and coats, paired with polished oxfords in buffed calfskin with contrasting details and a printed croco tote bag).
'Plein is a dreamer like me. I was lucky enough to realize all the dreams I had. Even the most difficult. And he is doing the same' said the former Italian politician, extremely happy because of the conclusion of this agreement that will force him to work hard: 'We will have to make many sacrifices, work at night, on Saturdays and Sundays'. On the other hand, Berlusconi had already said that in unsuspected times: Monza will have to become a model team for young people. In this regard, the former president of Milan had even provided a long behavioral catalog that included what their players should have done and what should not. A sort of ethical code to follow, not only on the football pitch.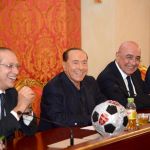 Philipp Plein is not the first fashion designer to come to the world of football, almost twenty years after the brilliant intuition of Dirk Bikkembergs: he has already collaborated with football teams like AS Roma and AS Monaco, but also sportsmen like boxer Floyd Mayweather, tennis player Borna Coric and Jorge Lorenzo.