PUMA made the most epic video you'll see this summer
To present the new Marseille jerseys, the German brand went in full 'Mad Max' mode
Can you imagine the first time that a brand approaches a football club and thinks "You know what? Let's do a simple a quiet campaign, just trying to avoid that something goes wrong"? Well, that brand is not PUMA. Differently, for example, from what Nike did with Sevilla, the German brand announced its partnership with Marseille on March 2017 and then spent more than a year thinking about the coolest way to present the new kits and, well, it did it.
In fact, the presentation video for the jerseys of the 2018/2019 season seems the work of the creators of Mad Max. It was instead created by Brieuc Dupont and Clément Langlais and has as protagonists - among others - Marseille defender (and PUMA athlete) Adil Rami, Marseille-born rapper Alonzo that provided the soundtrack and… Diego Armando Maradona. In fact, PUMA promised to bring El Pibe de Oro to Marseille, after that his presumed arrive caused some general hysteria in the city in the summer of 1989. The clip, that is called "Venu de l'Eau" / "Came from the water", wants to celebrate the multicultural heritage and variety of the French city, that has always been a boarding and disembarkation landmark for travelers, migrants and people from all over the world.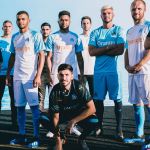 Of course, PUMA also presented the three new shirts that Les Olympiens will wear during the next season. Just like for the video, the sea is a central element for the shirts as well, as they all feature the color of water and the design of one of them - the third kit - looks like the movement of the sea waves. This video made by PUMA, soaked with street culture, hip-hop music, and football, perfectly represents the city of Marseille, that right now is living these three passions at its best. "Nous sommes le Marseille de demain/ We are Marseille of tomorrow".