Barbie did a Juventus' doll
Inspired by Sara Gama, the captain of the bianconeri squad
While his fans were still celebrating the historic ULC's win at Wembley, Juventus decided to live in an original way the International Women's Day, with the announcement appeared at 09:30 am on the social accounts of the club and a few hours earlier on that of Mattel, was presented a model of Barbie-inspired by Sara Gama, captain of Juventus women's football team.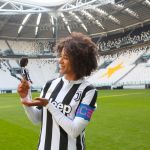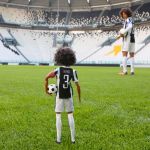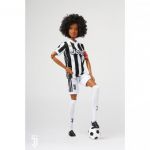 Gama has recently been chosen among the 50 top players in the world by her colleagues and best represents the meaning of the new campaign More Role Models recalled by 17 different personalities of the present and the past that can become an inspiration for those of the future. Sara Gama has not been chosen by chance and is not the only sport that Barbie (that today turns 59) was inspired by there is also, for example, the new Olympic snowboard champion, the American Chloe Kim, and the Muslim fencer Ibtihaj Muhammad with her Hijab, but also some real Inspiring Womens like the Mexican artist Frida Kahlo and Polish journalist Martyna Wojciechowska. As a general manager of Barbie, Lisa McKnight said in a statement that
Girls have always been able to play different roles and careers with Barbie and we are excited to shed light on real role models to remind them that they can be anything.
Shortly, they tried to overcome the stereotype of the blonde doll and create a current and multi-ethnic model that best show all the facets of the women in the world.
For Juventus, it is the umpteenth opportunity to enrich the club's identity. Last year the Turin-based club bought the women's squad and the Cuneo Calcio, thus becoming the Italian champion also in the women's championship. The decision to focus on women's football is part of Juventus' broader commercial strategy to expand its brand beyond the national and sports borders. Any examples? The courageous presentation of the new logo had attracted celebrities from all over the world to Milan (Emily Ratajkovski on all), then the collaborations with the music world had also arrived (see the agreement with Spotify and Giorgio Moroder DJ at the Stadium) and partnerships with important Asian companies (Japanese video games Cygames, which has also become sponsors in the back of the shirt, or Chinese Linglong Tire). Recently, even an American entertainment giant like Netflix had chosen Juventus to experiment the format of a docu-series concerning a football club, attracted by the very high potential of being able to reach a huge number of fans spread all over the world.