Nike has a problem with NBA's ripped jerseys
A big scratch on LeBron James' back on game 1, not the best start for the Swoosh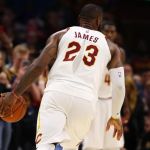 After a summer of waiting for the new Nike-branded 2017-18 NBA season, on Tuesday night the players finally hit the hardwood. The two opening games were the first regular games with Nike jerseys and they could hardly have offered a better stage. Apart from Golden State vs Houston, the main match was between the Cleveland Cavaliers and the Boston Celtics. It was a drama-filled match: two of Nike's biggest stars, LeBron James and Kyrie Irving, faced off as opponents after Irving left the Cavs this summer and joined the Celtics because he reportedly didn't want to share the spotlight with James anymore. How did the nationally broadcasted night go for Nike? Not that good.
After a regular contact between LeBron James and Celtics' Jaylen Brown, A large and very noticeable tear opened up in James's jersey. It was the sort of contact that happens all the time and probably shouldn't have been enough to rip the jersey.
Making things worse, it wasn't the first time that one of the jerseys get ripped.Tyler Ennis's jersey tore similarly during the Los Angeles Lakers' preseason opener a couple weeks ago.
Imagine-wise, it is a big deal for Nike beacuse adidas jerseys ripped rarely and surely not on the back of the most important athlete of the League during the opening night. In addition, The swoosh hyped the new jerseys for all the summer because it used 3D body maps of players to optimize the shape and says the material wicks sweat much better than previous jerseys. The materials is a combination of Alpha Yarns and recycled polyester - made with 20 recycled plastic bottles -making the jerseys a good promoter of Nike's sustainability efforts, too. According to Darren Rovell of ESPN.com, Nike is investigating why it happened.