5 GIFs from the football weekend - e01
The best moments that you've missed from this football weekend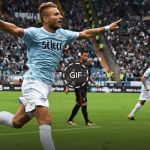 It was a rainy weekend here in Italy, perfect for forty-eight hours straight of football. If you were not that lucky because you had to attend your cousin's wedding, go to the seaside with your girlfriend or you were watching nostalgic Roby Baggio's video on Youtube, don't worry. Nss Sports is happy to catch you up with the most relevant moments of the football weekend, in five easy GIFs. Let's start right away.
1. The Perisic missile threat
Three things that are less dangerous than an Ivan Perisic's shoot: 1) Having a fight with Jaap Stam 2) The North Korea's missiles over Japan 3) Scratching Conor McGregor's Rolls Royce. Gomis, you have all of our respect for risking your life in the goal.
2. Snipers on Emirates Stadium's rooftop
It wasn't an easy start of the season for Arsenal: the critics to Arsene Wenger, Alexis Sanchez that wants to leave the club, and now also the snipers on the stadium's rooftop. That's too much, poor Coquelin.
3. The goal of the week
For the series players whose name will be heard once a year: Adrian Lopez, striker of Deportivo La Coruna.
4. The save of the week
Instead, you have probably already heard about this big guy in Manchester: David De Gea with a superb save on the ex Real Madrid starlet Jesé.
5. How to behave when someone tries the elastic twice in front of you.
Especially when that guy is cube with legs called Xherdan Shaquiri, in this case Eric Bailly was an example of zen philosophy applicated to football. Good job, Eric, I wouldn't be so comprehensive.
See you next week!