Nike and Pigalle realized the most colorful playground in the world
Stuck like a gem between the buildings of Rue Duperré, in the street of the Parisian quarter
The creatives at Ill-Studio and the clothing brand Pigalle have redesigned an entire basketball playground in Paris. That has maybe become the most spectacular one in the world, even if you can find very good ones around the globe. It's a playground fitted between Pigalle's building in Rue Duperré.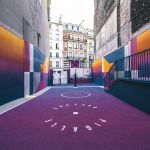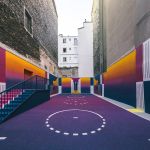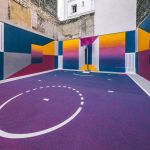 The summer has come, and so the playground became the best place in the world, and also a summer residence for every basketball lover. The trompe l'oeil dominated by bright fuchsia, orange and blue colors. 480 square meters where the creativity shows itself in a street play atmosphere created thanks to Nike. A futuristic playground with human body anatomy, that renews its performance in an exceptional relationship with art. Sports has always marked our time with a dominant concept of beauty and the constant search for modernity forged a strong bond between functionality and aesthetic.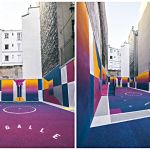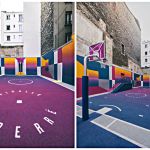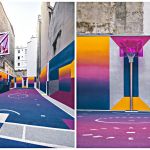 The new restyle also gave to the Pigalle brand a new identity, as it always as a piece of its heart shaped as a basketball. Once, Wilson Chandler posed for this beautiful brand, that every year proves itself as one of the best ones, especially for those who love basketball.