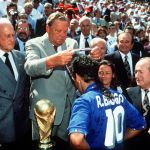 Myth, icon, legend, hero. Those are, more or less all of them, concept loans from mythology, expression of parameters almost supernatural. Roberto Baggio during his career has been called in all the way we've just mentioned, and for many years. For years, decades, his imagine represented the Divine will on a football field, Divine as his ponytail, stylistic element that contributed to further characterize the man and the player.
Roberto has never been a normal player, nor a normal man, starting from his faith, Buddhism, little knew in Italy when he started practiced it.
But Baggio has been superior to the others in his way to live the team, the rivalry, the football itself. He's broke rules, hearts, passing from one rival team to the other, from the Italian football elite to the suburbs and way back without the need to give explanation to anyone or stop in any way his incredible talent.
But, above all, Baggio has been an itinerant tour inside the Italian football of the 90s, in his fear, idiosyncrasies, its aesthetics. We tried to put together all the jersey that Baggio worn during his career, in 22 years to the maximum level.

Happy birthday Divin Codino, from nss sports.