10 scary football jerseys for your Halloween night
Tips for your Halloween outfits
The list of possible choices for your Halloween costumes is really vast and it goes from the classical clowns and ghost masks to horror classics such as Dracula and Frankenstein, to more innovative gimmicks. There's then the possibility to dress like
There's then the possibility to dress up like a football player and be scary as well. How? We've selected for you 10 kits and jerseys that would be great at every Halloween party.
#1 The Giove's wrath
Icluded among the 10 worst kits of the season, Roma's away kit seems to have suffered the wrath of the Roman version of Zeus. Lightning and thunderbolts have always been scary and if the thunder doesn't scare you enough, think that almost everyone who wore this kit got injured. Curse?

#2 Pirates of Brasilia (by Simone Bernardo)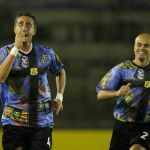 If you think Brasil is all about beach soccer in Copacabana and Rio Carnival, think again. Brazilian people know how to be scary and if you want to surprise your friend for Halloween you can easily do it with this Brasiliense shirt. Skulls, skeletons and bloody red writes are all that you need.

#3 Mountain Lion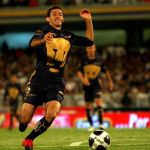 Although very good looking, this Pumas' shirt it's also perfect for the reinterpretation of some Mexican villain, maybe a cartel drug smuggler. After all, who said el chapo wasn't a Pumas' supporter? Recommended with shiny gold chains, knuckle-dusters and machete.

#4 Little rockstars bikers (by Francesco Abazia)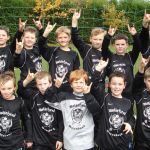 Halloween=skulls, and which skull is better than Snaggletooth, the historic and iconic Motorheads logo? Around 10 years ago in fact, the band headed by the late Lemmy Kilmister sponsored a team of young footballers from Lincoln, the Greenbanks, in a kit produced by Nike that became an immediate cult.


#5 Super-heroes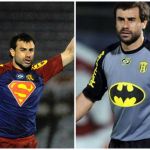 Pablo Fernando Aurrecochea has lived his maximum football shine moment as goalkeeper of Guaranì, football team from Paraguay. Above all, Aurrecochea jumped to the honors of the chronicle wearing uniforms representing his preferred cartoons. Among these, Superman and Batman are the two heroes most beloved and acceptable also for Halloween party.

#6 Dangerous scratches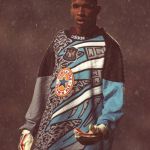 We are in the middle of 90s when adidas decided to produce some particular kits by doorman for the goalkeeper of the teams it sponsored, above all Liverpool and Newcastle. It was an almost spotted pattern that brings a sort of "scratch" on the left part of the jersey. It is recyclable for a monster suit.
#7 El Dia de los muertos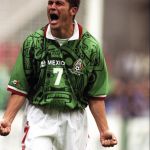 In Mexico, Halloween turns (more or less) into El Dia de los Muertos, a more colored and happy celebration, that serves to defeat the fear of the death. In the case you were interested to the Mexican version of the day of the deaths, the 1995 Mexico jersey is a fast and enough truthful emulation of the Mexican style.

#8 Extravaganza(by Iacopo Galli)
Fully 1998 Netherlands' pattern style for this jersey, that adidas gives to Arsenal for one of the most extravagant and beautiful away-kits ever: yellow is ok, blue is fine, but mixed together are so artful that brings this jersey straight towards your favourite Halloween party.

#9 Crazy skiers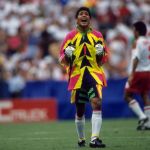 Hands up who, seeing the features, has never used Campos on middlefield on ISS Pro Evolution. He was so prolific in assists. Already eccentric by his own, he was finally consigned to history by Umbro, thanks to the jersey tribute tribute to ski suits and LSD. Not necessarily in that order.

#10 Halloween tigers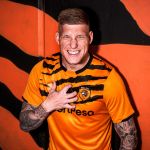 The Tigers' tiger-shirt, nomen omen, Tigers' bonus, and we could go on for hours. In any case, as often it happens for the most extreme design, either love or hate. Fans reached out for the second. Pure Halloween avant-retro.