The inspirations behind AC Milan's new Away kit
Milan has revealed how the pattern for the new shirt came about
Milan unveiled the Away kit for the 2023/24 season, showing a kit that follows in the tradition of the white jerseys, which have entered the hearts of Rossoneri fans because they were worn on the occasion of their greatest international successes. The jersey is inspired by the bond that unites football, art, design and fashion, which in Milan is continually strengthened and nourished by one project after another, forming the taste of a city where creativity plays a fundamental role in the lives of the people who live there. Creativity is also linked to design, with an almost artisanal approach also central to the shots with which the jersey was presented, and among the paper patterns and mood boards Milan also published some design boards, which reveal in particular how the pattern that covers the new Away kit was created.
Fashion houses have entered the collective imagination an that thanks to patterns, an element that many brands have in common. For the new shirt, AC Milan has chosen to create a new one together with PUMA, and the images published by the Rossoneri explain the elements that make it up. The starting point is the crest, which has been transformed by isolating the two crescents in which the initials ACM and the year the club was founded: 1899. The design boards show how these segments were then duplicated and interlocked to create a new geometric shape that breaks up the crest to create a sort of diamond pattern. Milan and PUMA's choice to insert this graphic with a light shade of grey makes the pattern more refined and hidden, leaving space for all the symbolic and historical meanings evoked by white.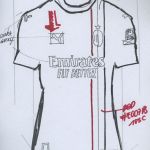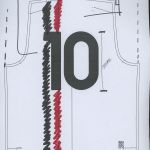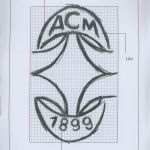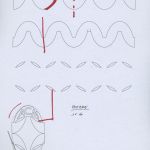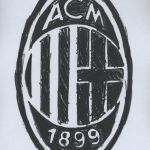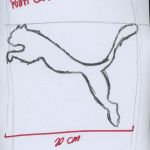 Among the pictures published by the club, in addition to the work on the pattern, one can also see indications of the position of the different logos, numbers and Pantone codes used for the Rossoneri details.