Was Saudi Arabia wrong to leave Nike?
The Arab federation formalised its new agreement with adidas, following in the footsteps of Jamaica and Italy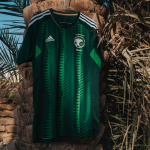 Saudi Arabia is a national team that certainly surprised everyone in the past World Cup in Qatar, not only for the game expressed but also for being the only team capable of beating the current World Champions Argentina. And after playing the most important competition in the world with shirts designed by Nike, yesterday the Arab federation made official the new agreement with adidas, thus following in the footsteps of Jamaica and Italy. An unexpected agreement that came as quite a surprise given that the national team had signed a long contract with the American brand in 2012. For the World Cup in Qatar, Nike had made a jersey, more or less like the competitor's, inspired by the country's flag. The logo of the Saudi Arabian Football Federation (SAFF) featuring a falcon, or saqr in Arabic, a multilingual reference to the word football blended perfectly with the lightly drawn floral motifs. While for the away kit, he had created an all-over-print interpretation based on the concepts of the 2018 and 2020 away kits to evoke a sense of speed and boldness. Fantasies that evidently hinted at a change after the World Cup and so it was.
Instead, adidas took up some of the concepts used by Nike, producing a shirt inspired by the Saudi Arabian coat of arms and in particular the palm tree visible in a vertical pattern. A new interpretation that completely overturns the aesthetics of the Arab country that will now be part of the German brand's national team roster. But while the home jersey was well thought out and executed, the same cannot be said of the away jersey. The three stripes have designed a very simple jersey, using one of the many standard templates present, the kit is in fact completely white with green trim, a colour taken from the flag. Another detail that has not gone unnoticed is also the choice of logo, adidas has in fact affixed the logo used until last season, which is not the same as the one used for Jamaica and Italy, without the word 'adidas'. An unusual choice and one that goes against the trend given the recent rebranding that was widely communicated. In any case, adidas confirms itself as one of the most active brands, continuing to register new sponsorships, from clubs to national teams.