More Than - Franco Tongya
A danish tale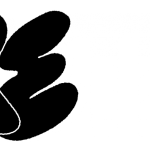 Franco
Tongya
A danish tale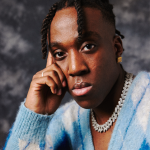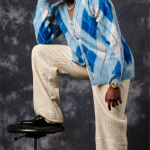 The first time I saw Franco Tongya was on my monitor while I was searching for Juventus photos. By chance, his face appeared among millions of results. It was a completely unexpected search that caught my attention for a few minutes. Even at that time, I could see that he seemed like a player different from the others. I often find myself falling for football players in general, both for their way of playing and their style, without any specific reason. This happens occasionally for those who love this sport like me, so perhaps some of you can understand me. The young Italian of 2002 was undoubtedly one of those players, but he moved to Marseille, so he was no longer on my radar and left space for other fixations. I rediscovered him at the presentation of nss sports' first book, Les Vêtements De Football, in Milan. On that occasion, we mainly talked about the now established link between football and fashion. It was precisely because of his personality mixed with his attitude that I thought he was the perfect fit for the tenth protagonist of More Than, a series that was born and inspired by players with a strong personality, especially off the pitch. Even at that time, the current Odense number 10 had already shown a marked propensity for the world of fashion, a passion that grew in parallel with his love for football.
Franco Tongya is very careful in managing his image. He is not someone who leaves his representation to chance, and as you can see from his social media channels, he has a strong personal style that sets him apart from other footballers. "I am passionate about fashion, so I take great care of how I dress. However, I have never been invited to a catwalk, and I don't work with a stylist for now. In this case, I had the opportunity to work together with Selma Kaci, who proved to be a real player in the sector. After the interview, we spoke, and I confided my desire to tiptoe into the fashion world, and she told me she loves my vision and is ready to help me." Compared to their past colleagues, the new generation of football players has been able to better express their passions, demonstrating how in an athlete's life, there can be other interests beyond the game and training. This has provided new perspectives to the world of football, which has taken up influences from across the pond, giving football a new narrative that is no longer confined to sports results but capable of extending beyond them.
"I believe that football and fashion are a spontaneous combination, because while football is a culture that has its value, fashion is the strongest language with the greatest impact to communicate and interpret a culture. Today, rappers wear designer clothes and showy pieces to illustrate their success stories, to show that they emerged from a situation of marginality, to be an inspiration. Unlike singers, who communicate these values through words, footballers can do it through their image. Therefore, the more iconic their image is, the more "loudly" they will speak. They will have a voice. For this reason, my team and I are currently working on building my image. It is something that not all my colleagues have the foresight to understand, but I am sure they will soon realize it." His professionalism goes hand in hand with his sporting results, considering how Franco Tongya has already garnered many experiences at only 22 years old, playing in three different European countries. After Italy and France, the young Italian striker landed at the court of Odense Boldklub, where he scored a perfect bicycle kick goal, worthy of Holly & Benji, on Sunday. The Superligaen may not enjoy the same popularity as the Premier League or Serie A, but it has fast and modern gameplay dynamics, as he confirms himself: "in Denmark the game pace is faster, it's a ping pong of actions towards the goal from both teams, played with high intensity, probably a little at the expense of tactics and the more defensive aspect of the game."
Certainly a different dimension than what he was used to, it is a league in which Franco Tongya consolidated his talent and cultivated his passion: "In Marseille I found a model very similar to that of Juventus, in terms of the growth path of the nursery: abroad, the 'second team project' has been rooted in for some time now, first and foremost the Masia. I don't know if it is a project that suits the needs of Italian football, but it could be an idea to be explored." Football is a passion born from an early age, rooted in his childhood: "as a child my parents gave me a ball and, having fallen in love with the object, we became inseparable. Eventually, the damage I was doing at home soon became irreparable, so my dad started taking me to the little field in the suburbs where we lived. At the ripe age of fourteen, I signed my first contract with Juventus and realized that, through football, I had in my hand the means to repay the sacrifices my parents had made to support our family in Italy, along with the privilege of being able to dream of a career as a footballer."
I have always tried to turn the incidents of racism I experienced in my own skin into a boost for my career, even though some of them horrified me. As a child, I never had a role model, and that's why I want to become a positive example for all the black boys who, like me, dreamt of becoming footballers.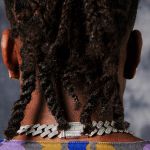 I have always tried to turn the incidents of racism I experienced in my own skin into a boost for my career, even though some of them horrified me. As a child, I never had a role model, and that's why I want to become a positive example for all the black boys who, like me, dreamt of becoming footballers.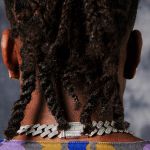 This bond was often put to the test however, due to absolutely damaging and violent motivations linked to the color of his skin. In fact, Franco Tongya is a second-generation Italian, a somewhat contradictory terminology but one that our protagonist has always considered as an added value, a driving force capable of bringing out the best in him: "Net of the criticalities, I like to look at being a second-generation Italian, a black Italian, as an opportunity. As a child, I never had a role model to follow, which is why I want to become a positive example for all black boys, who like me, dream of being a footballer. To this end, as well as on the field, I am working on my image to gain the opportunity to communicate and be a reference point for these boys." An opportunity and a reference that a few months ago, in his own small way, he tried to give to other boys who share that same passion for football, to bring out talent regardless of their social background. Using a well-known park in the heart of Turin, Tongya organized a match for the sake of integration and fun. Values that football should always communicate, but are too often obstructed in the most boorish manner. However, the current Odense striker has found the best way to respond to all these difficulties on the pitch by letting the facts speak for themselves and taking the space they deserve: "I have always tried to turn the episodes of racism that I have experienced on my skin into a spur for my career, despite the fact that some of them have undoubtedly terrified me. In particular, I vividly remember a derby, when I was fifteen years old, in which an opponent had offended me because of the color of my skin, but I remember with pleasure the result of the match and the scoreboard."
A speech as important as it is complex, but which he himself reiterates, 'education and culture are the best ways to fight this phenomenon and eradicate it, and for this reason, the first teaching must come from schools and parents. In fact, sports are a moment of aggregation, a context where the only difference, even at a young age, must be the talent and class exuded on the pitch: "at that age a ball unites everyone on one field, regardless of ethnicity and social background." With the same determination with which the young footballer partly nurtured his dream, and after that strange quest that first introduced me to his style and then to his talent, we said goodbye in a hopeful manner: "I played all the categories of the Italian national team up to U21 and had the opportunity to be in the two internships organized by coach Mancini. My biggest dream is to win the World Cup with the senior national team." And who knows if, at a time in history when the national team is desperately searching for strikers, even fishing from Argentina, it might not come true soon.