Toni Kroos doesn't love polo collar jerseys
The Real Madrid midfielder has spoken out about the design chosen by adidas for this season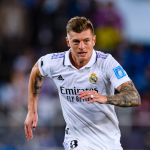 When adidas unveiled the new jerseys for Real Madrid, the newly crowned Champions League winners, last summer, many had welcomed the German brand's classic design as a nice vintage touch for a team that had proved it could stand the test of time. The Blancos' jersey had a traditional polo collar that could be closed with a button and details in purple and black. A return to origins for Carlo Ancelotti's team, which has a history of more than 20 years with adidas.
Indeed, not all of Madrid's players liked the jersey in question, and
Toni Kroos
in particular complained about the design chosen by the German company on his podcast
Einfach mal Luppen
. The German midfielder has always stood out for his edgy and unusual views, and this time the target was precisely his club team's home shirt, which he described as abhorrent.
"A polo shirt is not a football shirt. To all designers: this is really a mistake. Collared shirts are not good, they are uncomfortable and ugly',
commented
The Maestro
. Brands have always tried to find a balance between shirts designed for performance and those designed to make fans dream, but the results do not always convince everyone, and apparently Toni Kross is very difficult to please.